Islamic Finance: The Regulatory Challenge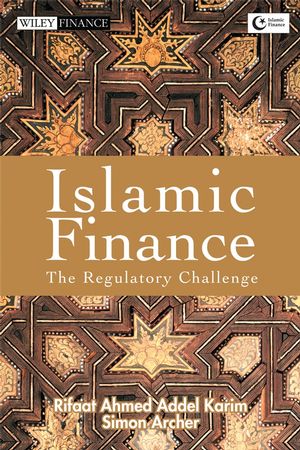 Islamic Finance: The Regulatory Challenge
ISBN: 978-1-118-39044-3
Mar 2012
208 pages
Description
"Islamic Finance: The Regulatory Challenge…is therefore timely and a truly welcome addition to the growing literature on this subject…I congratulate the two professors for their fine contribution to the evolving art and science of the regulation of Islamic finance."
—Dr. Zeti Akhtar Aziz, Governor, Bank Negara Malaysia

"The World's financial regulators have taken too long to appreciate the importance of adapting their regulatory frameworks to the needs of the fast growing Islamic finance sector. Simon Archer and Rifaat Ahmed, the leaders in the field, have put together a fascinating collection of essays which show just what has to be done. It is a very timely book indeed."
—Howard Davies, Director, London School of Economics

"The emergence of Islamic finance as a major force in the world financial system has focused attention on regulatory issues. This book, edited by Professor Archer and Professor Rifaat, two of the most respected figures in the field, is an important point of reference for those who have to deal with these issues, whether in regulatory authorities, or in the financial institutions themselves."
—Professor William Blair QC, Grays Inn, London

"There is now great interest, both in financial and legal circles, in reliable and authoritative texts on Islamic finance. I have no doubt that the availability of Islamic Finance: The Regulatory Challenge will be warmly welcomed by those who provide financial and legal services. The work will be of great assistance to them."
—The Rt Hon the Lord Woolf of Barnes, Law Lord and former Lord Chief Justice of England & Wales
About the Editors.
About the Contributors.
Foreword.
Preface.
Acknowledgments. 
1. Supervision of Islamic Banks and Basel: The Regulatory Challenge (Simon Archer and Rifaat Ahmed Abdel Karim).

Part 1. The Nature of Risks in Islamic Banking.

2. Banking and the Risk Environment (Hennie van Greuning and Zamir Iqbal).

3. Risk Characteristics of Islamic Products: Implications for Risk Measurement 
   and Supervision (Dr. V. Sundararajan).

4. Capital Structure and Risk in Islamic Financial Services (Wafik Grais and
   Anoma Kulathunga).

5. Inherent Risk: Credit and Market Risks (Abdullah Haron and John Lee Hin Hock).

6. Operational Risk Exposures of Islamic Banks (Simon Archer and Abdullah
   Haron).

7. Law and Islamic Finance: An Interactive Analysis (Yusuf Talal DeLorenzo
   and Michael J.T. McMillen).

8. Supervisory Implications of Islamic Finance in the Current Regulatory
   Environment (Hari Bhambra).
Part 2. Capital Adequacy.

9. Risk and the Need for Capital (Charles Freeland and Steven Friedman).

10. Measuring Risk for Capital Adequacy: The Issue of Profit-sharing Investment Accounts (Simon Archer and Rifaat Ahmed Abdel Karim).

11. Measuring Operational Risk (Elisabeth Jackson-Moore).

12. Supervisory Implications of Islamic Banking: A Supervisor's Perspective (Toby Fiennes).
Part 3. Securitization and Capital Markets.

13. Securitization in Islamic Finance (Abdulkader Thomas).

14. The Role of Capital Markets in Ensuring Islamic Financial Liquidity (Stella Cox).

15. Regulating Islamic Capital Markets (Robert Gray and Arshad Ismail).
 Part 4. Corporate Governance.

16. Corporate Governance for Banks (Hamid Yunis).

17. Specific Corporate Governance Issues in Islamic Banks (Simon Archer and Rifaat Ahmed Abdel Karim).

18. Corporate Governance and Supervision: Basel Pillar 2 (Chizu Nakajima and Barry A.K. Rider).

19. Transparency and Market Discipline: Basel Pillar 3 (Daud Abdullah, David Vicary).
Part 5. Conclusion.

20. Human Resource Management of Islamic Banks: Responses to Conceptual and Technical Challenges (Volker Nienhaus).

21. Concluding Remarks (Simon Archer and Rifaat Ahmed Abdel Karim).
Index.
"... "Islamic Finance" bekommen Sie als Praktiker ein Buch an die Hand, mit dessen Hilfe Sie sofort einsteigen können in die innerhalb der Kreditwirtschaft zurzeit vehement geführte Debatte über einheitliche Bilanzierungsstandards für Finanzgeschäfte mit dem arabischen Kulturraum." (Der Platow Brief, Nr.45 / 18.04.2007)