Issues in Education Research: Problems and Possibilities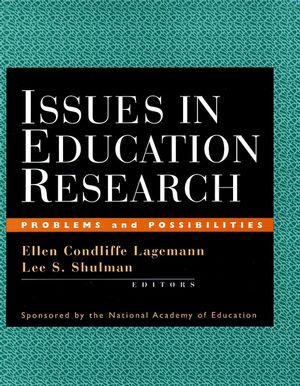 Issues in Education Research: Problems and Possibilities
ISBN: 978-0-787-94810-8
Jun 1999, Jossey-Bass
464 pages
Description
Sponsored by the National Academy of Education's Commission on the Improvement of Education Research

It has been a decade since the National Academy of Education last issued a review of education research. This new volume arrives at a critical time for our nation's schools. More than twenty prominent scholars provide an overview of the tensions, dilemmas, issues, and possibilities that currently characterize education research. They examine the state of education research, discuss how it is changing and where it needs to go, and reveal how the results of research--whether good or bad--have become key drivers of educational policy and practice. This revelation raises important questions about standards for sound research and training for future researchers. Issues in Education Research is a valuable reference for the more than 40,000 college faculty members who study schooling and prepare tomorrow's teachers.
Introduction: The Improvement of Education Research: A Complex, Continuing Quest (E. Lagemann & L. Shulman).

EDUCATION RESEARCH AS A PROBLEM IN THE HISTORY AND SOCIOLOGY OF EDUCATION.

An Auspicious Moment for Education Research? (E. Lagemann).

Research and Purposes of Education (D. Cohen & C. Barnes).

Poles Apart: Reconciling the Dichotomies of Education Research (T. Mitchell & A. Haro).

Needed: Thoughtful Research for Thoughtful Schools (D. Meier).

CHANGING CONFIGURATIONS IN EDUCATION AND SOCIAL RESEARCH.

Sociology and the Study of Education: Continuity, Discontinuity, and the Individualist Turn (C. Bidwell).

From Society to School and Back Again: Questions about Learning in and for a World of Complex Organizations (E. Clemens).

Understanding Educational Processes in an Era of Globalization: The View from Anthropology and Cultural Studies (K. Hall).

EDUCATION RESEARCH AS A VOCATION.

Professing Educational Scholarship (L. Shulman).

The Core, the Canon, and the Development of Research Skills: Issues in the Preparation of Education Researchers (A. Shoenfeld).

Discipline and Disciplines in Education Research--Elusive Goals? (S. Heath).

Culture and Commitment: Challenges for the Future Training of Education Researchers (V. Walker).

Preparing Education Practitioners to Practice Education Research (A. Neuman, et al.).

THE ORGANIZATION AND COMMUNICATION OF EDUCATION RESEARCH.

The Changing Infrastructure of Education Research (A. Collins).

Research, Reform, and Aims in Education: Modes of Action in Search of Each Other (J. Greeno, et al.).

New Media Communications Forums for Improving Education Research and Practice (R. Pea).

Multiples of Evidence, Time, and Perspective: Revising the Study of Teaching and Learning (D. Ball & M. Lampert).

Postscript: Some Reflections on Education Research (J. Bruner).
"This volume constitutes a milestone and a directional marker on the path to improving the training of educational researchers as well as enhancing the quality and the impact of educational research. It is comprehensive, scholarly, and readable, and it presents a challenge to schools of education and to the society as a whole to do whatever is necessary for us to upgrade the questions we ask and the answers we provide." (Catherine Snow, Henry Lee Shattuck Professor of Education, Harvard Graduate School of Education)

"This important project of the National Academy of Education will help researchers and policymakers understand the complexity of conducting high-quality research in the context of real classrooms and schools." (Lorrie A. Shepard, president, American Educational Research Association, and professor, University of Colorado at Boulder)

"Issues in Education Research's greatest contribution is to provide the reader with a set of well-written chapters that present in one volume much of the lay of the land--or disputed territory--that characterizes current-day education research.... This book prepares us for the tough task of going beyond particularistic views." (Richard J. Shavelson, dean, School of Education, Stanford University)