Issues in Finance: Credit, Crises and Policies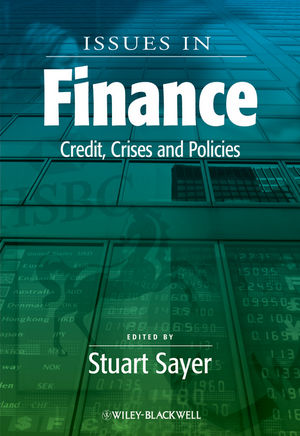 Issues in Finance: Credit, Crises and Policies
ISBN: 978-1-444-39161-9 September 2011 Wiley-Blackwell 224 Pages
Description
Issues in Finance: Credit, Crises and Policies
presents a collection of surveys on key issues surrounding the relationship between credit, finance, and the macro-economy that are linked to the recent global financial crisis.
Presents a timely collection of surveys that shed light on the recent financial crisis
Offers insights for economists in government, business, and finance
Shows how the mainstream economics literature was not blind to the potential problems of the financial framework and its interplay with the macro-economy
Table of contents
Contributors.
Issues in Finance: Credit, Crises and Policies – An Overview (Stuart Sayer).
1 Bank Capital Requirements, Business Cycle Fluctuations and the Basel Accords: A Synthesis (Ines Drumond).
2 The Ten Commandments for Optimizing Value-at-Risk and Daily Capital Charges (Michael McAleer).
3 The Ten Commandments for Managing Value at Risk Under the Basel II Accord (Juan-Ángel Jiménez-Martín, Michael McAleer and Teodosio Peréz-Amaral).
4 Sovereign Insolvency Procedures A Comparative Look at Selected Proposals (Kathrin Berensmann and Angélique Herzberg).
5 Collective Action Clauses in International Sovereign Bond Contracts – Whence the Opposition? (Sonke Haseler).
6 Collateral and Credit Rationing: A Review of Recent Empirical Studies as a Guide for Future Research (Tensie Steijvers and Wim Voordeckers).
7 The Stock Market, Housing and Consumer Spending: A Survey of the Evidence on Wealth Effects (Monica Paiella).
8 Price-Level Targeting and Stabilisation Policy: A Survey (Steve Ambler).
Index.
Reviews
"The range of topics in this well-researched and well-written book include optimizing value-at-risk and daily capital charges, managing value at risk under the Basel II Accord, sovereign insolvency procedures, collective action clauses in international sovereign bond contracts, a review of empirical studies on collateral and credit rationing, and capital requirements, business cycle fluctuations, and the Basel Accords." (Booknews, 1 April 2011)