It's Not Just PR: Public Relations in Society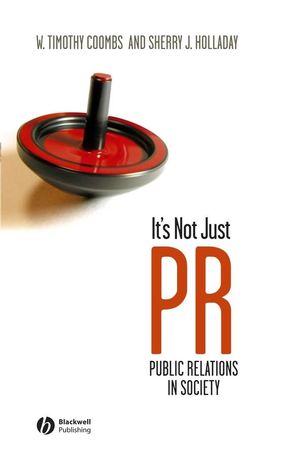 It's Not Just PR: Public Relations in Society
ISBN: 978-1-444-32602-4
Jun 2011, Wiley-Blackwell
152 pages
Description
Public relations shapes and spins our news, influencing society's values, knowledge, and perceptions. Despite this, it often goes unnoticed. It's Not Just "PR" takes a balanced approach in assessing its impact, drawing on a diverse range of contemporary examples from global corporations through to the power of PR in the non-profit sector.

Investigates a broad range of examples, from Coca-Cola and corporate pharmaceutical companies, to the non-profit sector and reform labour practices in Latin America
Charts new territory by focusing on the effects and influence of public relations, both intended and unintended, in a discipline that has all too often concentrated on skills with little or no reflection on societal impact
Helps reveal why public relations is useful to society and how it has developed a negative public reputation
Includes practical debate about power issues in public relations theory and practice
Winner of the 2007 PRIDE award given by the PR Division of the National Communication Association
Introduction.
1. Does Society Need Public Relations?.
Media Use and the Term "PR".
Criticisms of Public Relations.
Popular Press Books Describing the Importance of Public Relations.
Professional and Academic Defense of Public Relations.
Public Relations and the Marketplace of Ideas.
Re-focusing Public Relations.
Conclusion.
2. Ethical Implications of Public Relations.
What is Public Communication?.
Ethical Responsibilities of PR as a Form of Public Communication.
Ethical Perspectives.
Professional Associations and Ethics.
The Boundary-spanning Role of the PR Professional.
Tensions for PR Practitioners.
Power Relationships.
The Power of PR Professionals in the Corporation.
A Postmodern Perspective on PR.
Conclusion.
3. Who Practices Public Relations?.
Corporate-centric Histories of Public Relations.
Antagonistic Views of Corporations and Activists.
Power and Marginalization.
First Reform Era: Abolitionism and Temperance.
Second Reform Era: The Muckrakers.
Saul Alinsky: Activism in the 1960s.
Internet Activism.
Labor Unions and Public Relations.
Conclusion.
4. Public Relations Influences Society.
Marketplace of Ideas.
Issues Management: A Framework of Effects on Public Policy.
Shaping Public Behavior.
Mixing Social and Policy Changes: Direct-to-Consumer Advertising and Big Pharm.
Conclusion.
5. Global Effects of Public Relations.
Public Diplomacy: Government Public Relations Goes Global.
Private Voluntary Organizations: Activism Goes Global.
Corporations: Increased Demands from a Global Network of Relationships.
Conclusion.
Where We Have Been.
References.
Index.
"Coombs and Holladay have provided a powerful and refreshing perspective on the 'good' and 'bad' in public relations practice. By showing us an alternative to a corporate-centric approach, they shine a light on the possibilities for ethical and effective public relations."
--Debra Worley, Department of Communication, Indiana State University
"Shining a light of a different hue on PR practice, It's Not Just PR will help you explain PR's value to your boss or any critic of the PR industry."
--Doug Newsom, Schieffer School of Journalism, Texas Christian University

"This well-argued defense of the field and practice of public relations is in itself as good public relations job, in the best sense of that often-maligned term...the authors make a compelling case that public relations plays a valuable role in society." (Choice)
A balanced introduction to how PR functions in society, presenting public relations as neither flawless nor sinister
Investigates a broad range of examples, from Coca-Cola and corporate pharmaceutical companies, to the non-profit sector and reform labour practices in Latin America
Charts new territory by focusing on the effects and influence of public relations, both intended and unintended, in a discipline that has all too often concentrated on skills with little or no reflection on societal impact
Helps reveal why public relations is useful to society and how it has developed a negative public reputation
Includes practical debate about power issues in public relations theory and practice