It's the Customer, Stupid!: 34 Wake-up Calls to Help You Stay Client-Focused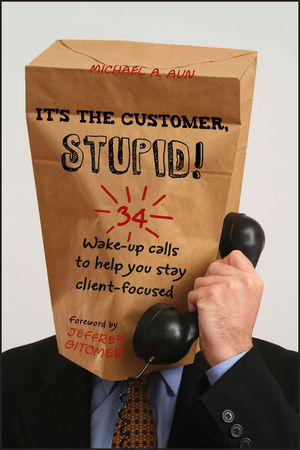 It's the Customer, Stupid!: 34 Wake-up Calls to Help You Stay Client-Focused
ISBN: 978-0-470-90739-9
Feb 2011
256 pages
Description
Ruthlessly focus on what's convenient for customers, not what's convenient for you

Ninety percent of dissatisfied clients will take their business elsewhere and never tell you why. However, ninety-five percent will become loyal customers again if their needs and problems are addressed and remedied.

Speaker and salesperson Michael Aun shares these secrets and many more in It's the Customer, Stupid!, a guide to growing any business by gaining new customers, and, more importantly, by keeping the ones you have happy and coming back for more. This fun-to-read book explains common myths about sales and customer satisfaction, starting with the fact that most businesses think they're customer-centric, but they just aren't.
Get proven steps to REALLY put your customer at the center of what you do
Distinguish your business from the competition by understanding the principle that good sales ARE good service
Author received the Toastmasters "World Championship of Public Speaking" award and is also a full-time businessman practicing what he preaches daily
It's the Customer, Stupid! reveals key actions that will shake up your business approach. Your customers will love you for them, and you'll love the effect on sales!
Foreword (
Jeffrey Gitomer).
Acknowledgments.
Chapter 1 Unhappy Customers Will Not Only Fire You But They Will Tell Others!
Chapter 2 Great Customer Service Is About Getting The Client's Feedback.
Chapter 3 Fix The Problem, Don't Fix The Blame.

Chapter 4 Always Give Them A Baker's Dozen.
Chapter 5 Trust, Once Violated, Negates A Relationship.
Chapter 6 Somebody Has To Take Out The Trash!
Chapter 7 You Are Not The Enemy But Part Of The Solution.
Chapter 8 Communication Skills Mean Everything; Join Toastmasters Or Dale Carnegie.
Chapter 9 Prophet Versus Profit… Why Not Both?
Chapter 10 Perception Is Reality.
Chapter 11 Be A Hero Or Shero… Fix The Problem... And Then Fire Who Caused It!
Chapter 12 Nothing Takes The Place Of Good Manners.
Chapter 13 Client Loyalty Is Earned, Not Given.
Chapter 14 Nibble Away At Customer Solutions.
Chapter 15 You Can Only Be Responsible For One-Half Of A Relationship Yours!
Chapter 16 Lead The Client To Solutions.
Chapter 17 Find Out What The Customer Needs And Give It To Them.
Chapter 18 Find Out What Others Are Doing And Do Something Differently.
Chapter 19 Become A Mentor To Your Client; Coach And Counsel!
Chapter 20 Winning Is Never Final And Losing Is Never Fatal.
Chapter 21 Master Your Time Or It Will Enslave You.
Chapter 22 If You Pay Peanuts, You Get Monkeys!
Chapter 23 Mentor Your Client.
Chapter 24 Customer Driven Leadership Is About Advocacy And Mentoring.
Chapter 25 The Old Way Is Rarely The Best Way Because Change Is Constant.
Chapter 26 Respond To The Client Even If You Cannot Provide An Immediate Solution.
Chapter 27 Bad News Travels At Light Speed.
Chapter 28 Nine Rules That Drive Client Loyalty.
Chapter 29 Eight Rules To Overcome Fear And Failure!
Chapter 30 Six Rules Of Servant-Driven Leadership.
Chapter 31 Five Rules That Drive Customer Achievement And Success.
Chapter 32 Client Driven Leadership Is About Removing Roadblocks.
Chapter 33 Six Rules That Drive Client Results.
Chapter 34 Ten Rules that Drive Client Decisions and Loyalty.
About the Author.
Index.