It's Okay to Manage Your Boss: The Step-by-Step Program for Making the Best of Your Most Important Relationship at Work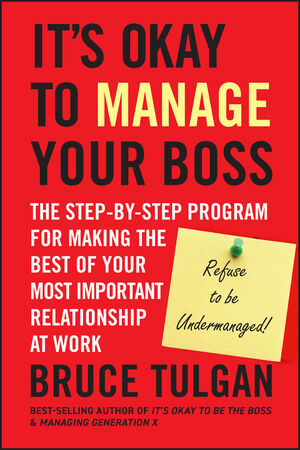 It's Okay to Manage Your Boss: The Step-by-Step Program for Making the Best of Your Most Important Relationship at Work
ISBN: 978-0-470-60530-1
Sep 2010, Jossey-Bass
208 pages
Description
Get what you need from your boss
In this follow-up to the bestselling It's Okay to Be the Boss, Bruce Tulgan argues that as managers demand more and more from their employees, they are also providing them with less guidance than ever before. Since the number one factor in employee success is the relationship between employees and their immediate managers, employees need to take greater responsibility for getting the most out of that relationship. Drawing on years of experience training managers and employees, Tulgan reveals the four essential things employees should get from their bosses to guarantee success at work.
Shows employees how to ask for what they need to succeed in their high-pressure jobs
Shatters previously held beliefs about how employees should manage up
Outlines what employees must get from their managers: clear expectations; the skills needed to perform their jobs; honest feedback, recognition or rewards
A novel approach to managing up, It's Okay to Manage Your Boss is an invaluable resource for employees who want to work more effectively with their managers.
Chapter 1: Refuse to be undermanaged.
Chapter 2: The first person you have to manage every day is yourself.
Chapter 3: Get in the habit of managing your boss every day.
Chapter 4: Take it one boss at a time, one day at a time.
Chapter 5: Get clear expectations from your boss every step of the way.
Chapter 6: Get your hands on the resources you need to succeed.
Chapter 7: Track your performance every step of the way.
Chapter 8: Go the extra mile to earn credit and more rewards.
Chapter 9: Dealing with the most common jerk boss scenario.
Chapter 10: Start managing your boss today.
Acknowledgments.
About the Author.
Index.