It Happened One Night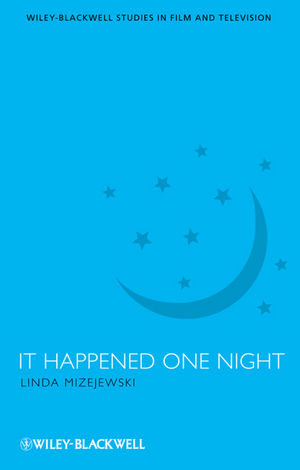 It Happened One Night
ISBN: 978-1-405-17388-9 December 2009 Wiley-Blackwell 152 Pages
Description
A movie that swept the 1934 Academy Awards and captivated Depression-era America, It Happened One Night challenged the ways Americans imagined marriage, romance, gender, and class difference. This book examines key scenes and formal features of It Happened One Night, and explores its lasting importance in film history and in cultural studies.
Consideration of the film's role in establishing the genre of the romantic comedy film
Investigations into the film's persistent sexuality and its creativity in avoiding Depression-era censorship
Establishment of the cultural, economic, and political context of a film that directly addresses the Depression and class issues
Exploration of how the film invokes and develops the stardom of Clark Gable and Claudette Colbert and how this stardom intersects with the film's topics of gender, genre, sexuality, and class
List of Illustrations.
Acknowledgments
.Introduction: Little Picture, Big Classic.
Legends and a Legendary Hit.
Adaptation: ""Night Bus"" to Sleeper Hit.
Capra and Authorship.
1. Rules and Unruliness: Romantic Comedy.
Gender and Genre.
Screwball Characters Meet Cute.
Intimacy, Violence, and Marriage.
2. Sex and Censorship: The Wavering Walls of Jericho.
The Hays Office and the Production Code.
Censorship and the Power of ""It"".
Constructing the Walls of Jericho.
The Walls Tumble Down.
3. Capra, Class, and the Runaway Heiress.
Hollywood and the Great Depression.
The Runaway Heiress.
Capra and Class Politics.
4. Stardom: Shirtless Gable, Classy Colbert.
Cave Man and a Menace to Morals.
""Who Do You Think You Are? Clark Gable?""
Tough Dame, Lovely Frog.
The Runaway Bride.
Notes.
Works Cited.
Index.
""Filled with clearly explained theory, it is an exemplary guide for film students and teachers. Its shrewd reading of the film empowers the text; the meticulous research and subtle analysis is sophisticated enough for high level readers yet accessible enough for those new to the field. ... This book is not just for lovers of Capra, Gable, or even 'old films'—the concepts of gender, class, stardom, and censorship developed in this text are pertinent for any film buff."" (M/C Reviews, April 2010)