J.K. Lasser's New Rules for Estate and Tax Planning, Revised and Updated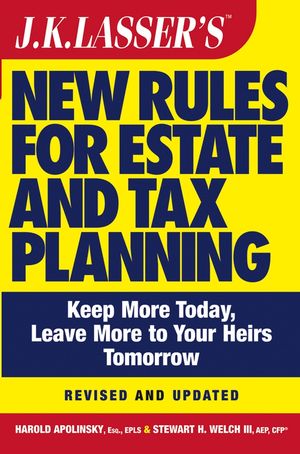 J.K. Lasser's New Rules for Estate and Tax Planning, Revised and Updated
ISBN: 978-0-471-73108-5
Mar 2005
304 pages
Description
A complete guide to planning an estate under today's tax rules

When it comes to your estate--no matter how big or small it may be--you shouldn't leave anything to chance. Proper planning is necessary to protect both your assets and your heirs. Estate Planning Law Specialist Harold Apolinsky and expert financial planner Stewart Welch III know this better than anyone else, and in the Revised and Updated Edition of J.K. Lasser's New Rules for Estate and Tax Planning, they offer valuable advice and solid strategies to help you plan your estate under today's tax rules as well as preserve your wealth. Packed with up-to-the-minute facts, this practical resource covers important issues, such as:
* How new legislation will impact inheritances and trusts
* Estate and generation-skipping tax planning
* The role of wills, executors, and trusts
* Treatment of charitable contributions
* The do's and don'ts of gifting
* Life insurance and retirement planning


Filled with in-depth insights and expert advice, this book will show you how to efficiently arrange your estate today so that you can leave more to those you care about tomorrow.
Acknowledgments.
Introduction.
1. Tax Relief Act–2001, and Jobs and Growth Tax Act–2003: An Overview.
2. Estate Planning: You Need It—Here's Why.
3. The Estate Tax System: How Much Are You Really Worth?
4. Investment Strategies for Maximizing Estate Growth.
5. Retire with Dignity: How Much Is Enough?
6. You Don't Have a Will? Big Trouble!
7. Where There's a Will, There's Your Way!
8. Using Trusts in Your Estate Plan.
9. Understanding the Living Trust.
10. Using Insurance in Your Estate Plan.
11. Smart Strategies for Gifting Assets to Family Members.
12. Strategic Planning with Charities.
13. Family Limited Partnerships.
14. Succession Planning for the Family Business or Farm.
15. Asset Protection Strategies.
Epilogue—Dealing with Parents and Their Money.
Appendix A—State-by-State Listing of Top Professional Advisors.
Appendix B—Estate Planning Terms.
Index.