J.K. Lasser's New Tax Law Simplified 2011: Tax Relief from the American Recovery and Reinvestment Act, and More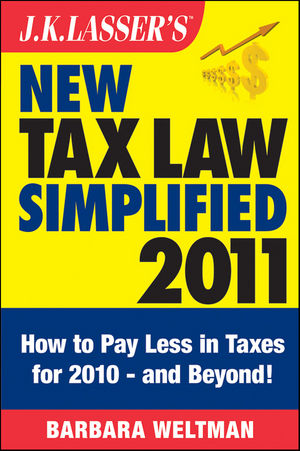 J.K. Lasser's New Tax Law Simplified 2011: Tax Relief from the American Recovery and Reinvestment Act, and More
ISBN: 978-1-118-00850-8 November 2010 224 Pages
Description
Straightforward explanations of the new tax laws
Things have changed radically in the world of housing, education, employment, health care, and other areas where a firm understanding of taxes can benefit you financially. While these changes can, and will, have a dramatic effect on taxpayers, all is not lost. J.K. Lasser provides the tips and tools needed to gain a better grip of what is going on to help you save money on your 2010 return and to plan ahead for future tax savings.
Written by the recognized authority in taxes, J.K. Lasser's New Tax Law Simplified 2011 transforms the complex new tax laws into simple English that any taxpayer can understand. Filled with up-to-the-minute facts and figures, this book makes it easier for you to learn about-and profit from-the laws that govern your taxes. The book also looks ahead to changes for 2011 that can affect tax planning now.
Outlines various tax relief strategies
Filled with numerous examples and tables
Helps you understand and utilize the new tax programs and regulations that have been passed
Other titles by Weltman: J.K. Lasser's Small Business Taxes 2011 and J.K. Lasser's 1001 Deductions & Tax Breaks 2011
While you may be concerned with the current state of the economic and financial world, this can be a time of great opportunity-if you take advantage of the guidance found in J.K. Lasser's New Tax Laws Simplified 2011.
Table of contents
Introduction.
1. New Rules for Your Home and Family.
2. Changes for Health Care and Education.
3. New Breaks for Retirement Planning.
4. New Investment Opportunities and Traps.
5. New Ways to Boost Your Take-Home Pay.
6. Other Money-Saving Tax Breaks.
7. Tax-Saving Changes for the Self-Employed.
8. Estate, Gift, and Generation-Skipping Transfer Taxes.
Appendix A. Expiring Laws.
Appendix B. Online Planning Tools.
Appendix C. Forms and Worksheets.
Glossary.
Index.