J.K. Lasser Pro Integrating Investments and the Tax Code: Using the Tax Code to Enhance Returns and Add Value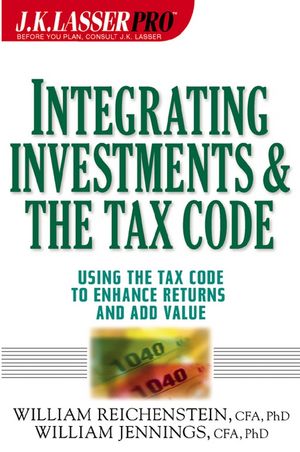 J.K. Lasser Pro Integrating Investments and the Tax Code: Using the Tax Code to Enhance Returns and Add Value
ISBN: 978-0-471-21642-1
Feb 2003
318 pages
Product not available for purchase
Description
Add Value to any Client's Portfolio With Tax-Saving Strategies

"Bill Reichenstein and William Jennings are two of the industry's very few true pioneers. This book should be on the short list of anyone interested in private wealth management, whether expressed in thousands or millions of dollars."
-Jean L. P. Brunel, CFA, Editor of the Journal of Wealth Management and author of Integrated Wealth Management

"Reichenstein and Jennings tackle many key issues facing individual investors, including 'How should you differentiate between the before-tax dollars in retirement accounts and the after-tax dollars in taxable accounts?' and 'Should bonds be held in retirement accounts and stocks in taxable accounts or vice versa?' They provide valuable insights that certainly should add value to you and your clients."
-Brian Bruce, Editor in Chief of Journal of Investing and Director of Global Investments at PanAgora Asset Management

"If you want to be on the leading edge of thinking about integrated wealth management, then read this book. While the traditional approach searches for optimization in perfect markets and limits the portfolio to financial assets, these authors tackle real-world complexities and integrate other sources of wealth into the portfolio. Extending the analysis is vital in a world where financial decisions are increasingly the responsibility of the individual."
-Conrad S. Ciccotello, JD, PhD, Editor of Financial Services Review and Director of Graduate Personal Financial Planning Programs at Georgia State University
Acknowledgments.
Chapter 1. Introduction.
PART I: SAVINGS VEHICLES.
Chapter2. Savings Vehicles: Structure and Ending-Wealth Models.
Chapter 3. After-tax Wealth across Savings Vehicles.
Chapter 4. Frequently Asked Questions Related to Savings Vehicles.
Chapter 5. Who Should Buy a Non-qualified Tax-deferred Annuity?
Chapter 6. Saving Opportunities in Deductible Pensions and Roth IRAs after the 2001 Tax Act.
Chapter 7. Tax-Efficient Investing.
Chapter 8. College Savings Strategies.
PART II: A NEW APPROACH TO CALCULATING A FAMILY'S ASSET ALLOCATION.
Chapter 9. Calculating the Asset Allocation.
Chapter 10. Conversion to After-tax Funds.
Chapter 11. Estimating the Value of Social Security Retirement Benefits.
Chapter 12. Calculating the Value of Military Retirement Income.
Chapter 13. Calculating the Value of Defined-benefit Plans: Company Pensions, Teachers', Firefighters', and Police Officers' Pensions.
Chapter 14. Asset Allocation and Asset-location Decisions.
Chapter 15. Case Studies.
Glossary.
Ind ex.