J.K. Lasser Pro Separate Account Management: An Investment Management Strategy Designed for High Net Worth Individuals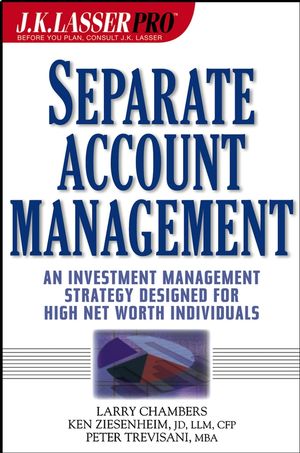 J.K. Lasser Pro Separate Account Management: An Investment Management Strategy Designed for High Net Worth Individuals
ISBN: 978-0-471-24976-4
May 2003
277 pages
Product not available for purchase
Description
A FINANCIAL ADVISOR'S GUIDE TO A PERSONAL AND FLEXIBLE MONEY MANAGEMENT APPROACH FOR HIGH NET WORTH CLIENTS

Twenty years ago separate account management programs (SAMs) were reserved for the sophisticated advisor who only served the very wealthy. Today, SAM programs have become available to most advisors and several layers of the affluent. If you intend to work with affluent clients that demand personal and flexible service, you must have a complete understanding of this approach to money management-and J.K. Lasser Pro Separate Account Management is the perfect guide.

Filled with in-depth insights and expert advice, J.K. Lasser Pro Separate Account Management will introduce you to the nuances of separate account management as well as show you how to use this investment vehicle to build your business and help your clients reach their financial goals.

This invaluable resource will:
* Take the mystery out of providing professional asset management services to a broad cross section of your clients
* Educate you about the opportunities and advantages of using separately managed accounts
* Provide you with information about how separately managed accounts work as well as who should be in them
* Illustrate how you can employ separately managed accounts in your financial advisory practice
* Learn how to convert from commission to fees
* And much more


Filled with practical guidance and vital information, J.K. Lasser Pro Separate Account Management is a valuable road map for financial professionals looking to master this unique approach to managing money.
Forword.
Acknowledgments.
PART I: THE BASICS.
Chapter 1. Introduction.
Chapter 2. Separate Account Definitions.
Chapter 3. The State of the Separate Accounts Industry.
Chapter 4. Participants in the Separate Account Market.
PART II: THE PROCESS.
Chapter 5. The Investment Management Consulting Process.
Chapter 6. Start with Financial Planning.
Chapter 7. Asset Allocation.
Chapter 8. Understand the Different Styles and Types of Managers.
Chapter 9. Building a Core Investment Portfolio.
Chapter 10. The Creative Process of Writing an Investment Policy Statement.
Chapter 11. Selecting Separate Account Managers.
Chapter 12. The Control Account.
Chapter 13. What Does a Separate Account Cost?
Chapter 14. Tax Management in the Separate Account.
PART III: THE DELIVERY SYSTEM.
Chapter 15. Converting Existing Clients.
Chapter 16. Prospecting for High Net Worth Investors.
Chapter 17. Compliance.
Chapter 18. Leveraging Your Operations.
Chapter 19. Understa nd the Employee Retirement Income Security Act (ERISA) and Separate Accounts.
Chapter 20. Look into the Future.
About the Authors.