J2EE Open Source Toolkit: Building an Enterprise Platform with Open Source Tools (Java Open Source Library)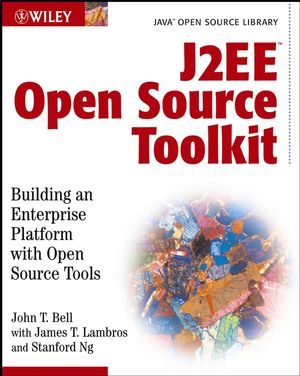 J2EE Open Source Toolkit: Building an Enterprise Platform with Open Source Tools (Java Open Source Library)
ISBN: 978-0-471-44435-0
Sep 2003
648 pages
Product not available for purchase
Description
The first book that shows how to harness the full power of open-source tools to build a free J2EE development platform without using any commercial products
Tools covered include Apache Tomcat, Struts, Jetspeed, MySQL, Joram, and jBoss
Shows developers how to integrate all of the most popular open-source tools into a single, integrated platform
Companion Web site provides source code plus a fully working example of the development platform created in the book
Acknowledgments.
About the Authors.
Introduction.
Part 1: At the Starting Gate.
Chapter 1: Leveraging Open Source Software.
Chapter 2: Java Enterprise Architecture.
Chapter 3: Selecting the Right Platform Components.
Part 2: Integrating the Web Tier.
Chapter 5: Powering the Web Tier with a Server Container.
Chapter 6: Creating Dynamic Content Using Template Engines.
Chapter 7: Adding a Web Application Framework.
Part 3: Building the Infrastructure.
Chapter 8: Managing Data Using JDBC and Databases.
Chapter 9: Messaging with JMS.
Chapter 10: Implementing an EJB Container.
Chapter 11: Providing Web Services.
Chapter 12: Adding XML Power Tools.
Part 4: Test Driving the Platform.
Chapter 13: Building an Application: Assembling the Back End.
Chapter 14: Building an Application: Assembling the Front End.
Chapter 15: Deploying and Running Your Application.
Index.