JK Lasser's Small Business Taxes 2009: Your Complete Guide to Business Deductions and Credits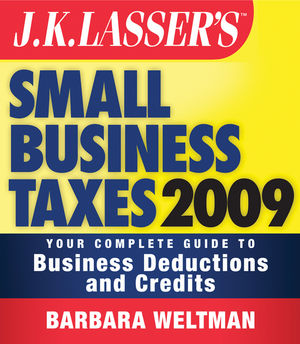 JK Lasser's Small Business Taxes 2009: Your Complete Guide to Business Deductions and Credits
ISBN: 978-0-470-45240-0
Mar 2009
Description
J.K. Lasser's Small Business Taxes 2009: Your Complete Guide to Business Deductions and Credits provides the steps that a small business owner needs to get the most out of their tax deductions and tax breaks. The largest employer in theUS is the small business owner. In fact, there are over 24,000,000 small businesses in the country and the number is growing significantly. Small business owners have a full plate. Indeed, they spend most of their time just keeping the business going. This section of the guide is clearly organized by form of business organization so business owners can easily find the tools they need. It focuses on specific deductions and tax form information. It will provide you with guidance on the various types of deductions business owners can use to reduce business income.
With this book, readers will find comprehensive tips with regard to:
Deductible Compensation
Travel Expenses
Maintenance and Energy Deductions
First Year Expensing
Home Office Deductions and much more!