JMX Programming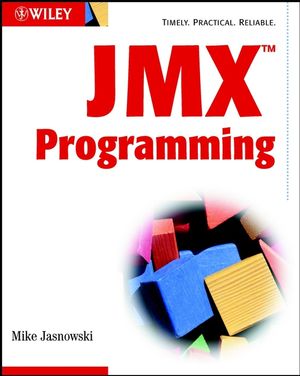 JMX Programming
ISBN: 978-0-764-54957-1
Aug 2002
552 pages
Product not available for purchase
Description
Gives readers the skills needed to create management and instrumentation applications to control both J2EE and non-J2EE applications.
Contains not only the API details, but also practical, hands-on examples that show developers how to create instrumentation layers and management agents for both J2EE and stand alone applications.
Part I: Getting Started with JMX Programming.
Chapter 1: Managing Applications and Networks.
Chapter 2: Inspecting the JMX Architecture.
Chapter 3: Writing Your First JMX Application.
Part II: Using the Instrumentation Layer.
Chapter 4: Working with Standard Mbeans.
Chapter 5: Using Dynamic MBeans.
Chapter 6: Open and Model Mbeans.
Chapter 7: Building MBean Relations.
Part III: Implementing the Agent Layer.
Chapter 8: Understanding the MBean Server.
Chapter 9: Using MBean Server Query Facilities.
Chapter 10: Using Monitoring and Timer Facilities.
Chapter 11: Working with JMX Notifications.
Chapter 12: Protocol Adapters and Connectors.
Part IV: Programming JMX.
Chapter 13: Monitoring Hardware with JMX.
Chapter 14: Managing Servers Remotely.
Chapter 15: Managing J2EE Components.
Appendix A: JMX Resources.
Appendix B: JMX Exceptions.
Appendix C: JMX Tracing and Debugging.
Appendix D: UML Quick Reference.
Bonus Content
Bonus Content
Welcome to the JMX Programming Web site! We're glad you found your way here and hope you will find this site a useful supplement to the book.
JMX Programming shows intermediate to advanced Java developers how to add management and instrumentation capabilities to standalone and J2EE based Java applications using the Java Management Extension (JMX) API. Formerly known as the Java Management API (JMAPI), JMX defines a standard design pattern that allows developers to add management services to new and existing applications. These services can range from simple command-line applications to very complex ones that alter an application's behavior automatically.
Java is being used extensively in enterprise applications on a variety of platforms. One requirement for its continued growth and acceptance in the enterprise is that it be manageable and perhaps integrate into existing application and network management infrastructures. Until a few years ago, no Java-based standard for managing Java applications or components existed.
The Java Management Extensions (JMX) provide a Java-based architecture and API for managing Java applications and components. You can provide a standard management interface to components such as a simple Java class, an Enterprise Java Bean (EJB) or a Java servlet. The JMX specification details a complete set of guidelines for developing a management interface for your own components, and details the other services that you will make use of such as notifications, the JMX agent, and MBean Server.
This book walks you through how to develop a management interface using the JMX API, and talks in detail about the JMX specification. You learn how to develop a management interface for simple Java classes as well as J2EE components such as Message-Driven Beans and Java servlets. You will also use JMX to build a management interface for a printer. You learn through discussion and examples how to utilize each of the different types of MBeans, and how to use the MBean Server and agent services. By the end of this book, you will be able not only to make your own applications manageable, but to use the JMX services of other products like the BEA WebLogic Application Server. You will also be able to discuss the JMX specification and how to use the various agent services.
The JMX-Wiley.zip (found on the downloads page from the menu to the left) file contains the code from various chapters. After you download the file, you can open it and extract the contents by double-clicking. To unzip the code archives, you need an unzipping tool, such as WinZip.
When extracting the files, use WinZip's default options (confirm that the Use Folder Names option is checked) and extract the jmx.zip file to a drive on your system that has about 3MB of available space. The extraction process creates a folder called JMX-Wiley. As long as the Use Folder Names option is checked in the Extract dialog box, an entire folder structure is created within the JMX-Wiley folder. You'll see folders arranged by chapter number, and some of those chapter folders contain subfolders.
Thanks again for visiting the site. We're certain you'll find the material posted here useful and this Web site a great tool that helps you get the most out of JMX Programming. Good luck!