JNCIA: Juniper Networks Certified Internet Associate Study Guide: Exam JN0-201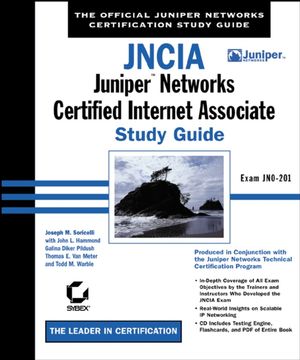 JNCIA: Juniper Networks Certified Internet Associate Study Guide: Exam JN0-201
ISBN: 978-0-782-14071-2
Feb 2003
640 pages
Product not available for purchase
Description
Here's the book you need to prepare for the JNCIA exam, JN0-201, from Juniper Networks. Written by a team of Juniper Network trainers and engineers, this Study Guide provides:
Assessment testing to focus and direct your studies
In-depth coverage of official test objectives
Hundreds of challenging practice questions, in the book and on the CD
Authoritative coverage of all test objectives, including:
Working with the JUNOS software
Implementing Juniper Networks boot devices
Troubleshooting Routing Information Protocol
Implementing a routing policy
Configuring and monitoring an OSPF Network
Implementing Border Gateway Protocol
Monitoring and troubleshooting an IS-IS network
Understanding the Reverse Path Forwarding process
Operating firewall filters
Using Multiprotocol Label Switching
Note: CD-ROM/DVD and other supplementary materials are not included as part of eBook file.
Introduction. Assessment Test. Chapter 1 The Components of a Juniper Networks Router. Chapter 2 Interfaces. Chapter 3 Protocol-Independent Routing. Chapter 4 Routing Policy . Chapter 5 The Routing Information Protocol (RIP). Chapter 6 Open Shortest Path First (OSPF). Chapter 7 Intermediate System to Intermediate System (IS-IS). Chapter 8 Border Gateway Protocol (BGP). Chapter 9 Multicast. Chapter 10 Firewall Filters. Chapter 11 Multiprotocol Label Switching (MPLS). Glossary. Index.
Chapter
Page
Details
Date
Print Run
Combined Errata


Page 31

3rd Sentence Should read: "To assist you in making this transition, let's examine some details of the router's output."

Page 47

"since your interaction with the Packet Forwarding Engine is through the CLI" Should read: "... since your interaction with the Packet Forwarding Engine is limited through the CLI and the JUNOS software."

Page 104

Answer 6 Second sentence should read "Scrambling and FCS Value are physical properties."

Page 138

Near bottom of page, the route prompt should show "user@Merlot"

Page 139

First router configuration line should read "user@Merlot"

Page 206

Automatic summarization - Should read: "This occurs due to the classful nature of RIP as described above."

Page 251

Should read: "... and injects it into the appropriate area."

Page 340

First sentence should read: "The Cabernet and Shiraz routers are EBGP peers in AS 10 and AS 20, respectively."

Page 342

Should read: "... and finally arrived in the local AS 64999."

Page 343

Should read: "Assuming a local AS number of 64999, in our earlier ..."

Page 383

Please change 0x01:11:01 into 0x01:10:01
Please change 0x01:11:01 into 0x01:10:01

Also change 0x01:00:5E:01:11:01 into 0x01:00:5E:01:10:01

Page 485

Should read: "The default action for an LSR is to copy the IP TTL ..."

Page 511

Should read: "The interval is changed on Chardonnay's so-0/0/2.0 interface (10.100.60.2) to 20 seconds:"

Page 116,117

Discussing Aggregated Routes the book specifies that the most precise summary available to fit this criterion is 192.168.0.0/17 it should read 192.168.0.0/18.

Page 288,289

Text output that is included in figure 7.8 -Please change the router capture output from"hold time 9" to "hold time 27".

Page xli

Answer 17 Please change "192.168.0.0 /17" to "172.16.0.0 /17".




---