JNCIE: JuniperTM Networks Certified Internet Expert Study Guide: Exam CERT-JNCIE-M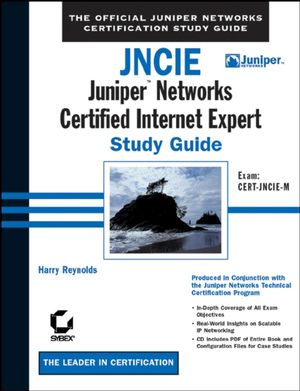 JNCIE: JuniperTM Networks Certified Internet Expert Study Guide: Exam CERT-JNCIE-M
ISBN: 978-0-782-14069-9
Nov 2003
862 pages
Product not available for purchase
Description
Here's the book you need to prepare for the hands-on JNCIE exam, CERT-JNCIE-M, from Juniper Networks. Written by a Juniper Network Senior Education Services Engineer with over 15 years of internetworking training experience, this Study Guide provides the information and insights you need to approach the challenging JNCIE hands-on lab with confidence.
Authoritative coverage of all test objectives, including:
* Configuring and troubleshooting BGP, OSPF, IS-IS, and RIP protocols
* Configuring and verifying firewall filters and policers
* Configuring and monitoring Class of Service
* Provisioning and troubleshooting MPLS-based VPNs operating at network layers 2 and 3
* Configuring and troubleshooting IPv6
* Configuring multicast
Introduction.
Chapter1 Network Discovery and Verification.
Chapter2 MPLS and Traffic Engineering.
Chapter3 Firewall Filter and Traffic Sampling.
Chapter4 Multicast.
Chapter5 IPv6.
Chapter6 Class of Service.
Chapter7 VPNs.
Combined Errata,

Page 232

Para 3, revision. .
Keep in mind that a RSVP LSP with LDP tunneling support in the r7 to r1 direction is not technically needed for successful LDP session establishment between routers r1 and r7. This is because the extended neighbor discovery and session establishment messages generated by r1 are addressed to the remote LDP neighbor, and as such, are simply routed as unicast IP by the intervening routers. Note that even though an LDP session can be established without configureing r7 with LDP tunneling support, LDP forwarding will only be possible in the r1-to-r7 direction if bi-directional LDP tunneling is not configured. Although not shown, r7's configuration has been modified to also support LDP tunneling to enable bi-directional LDP forwarding.