Jacaranda Essentials: Humanities 2 and eBookPLUS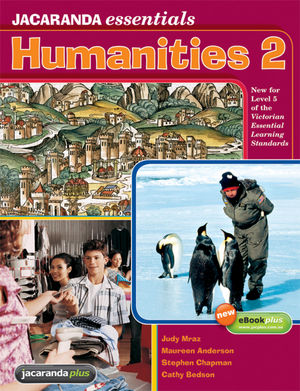 Jacaranda Essentials: Humanities 2 and eBookPLUS
ISBN: 978-0-731-40450-6
Jan 2007, Jacaranda
336 pages
Product not available for purchase
Description
Jacaranda Essentials Humanities 2 is the second of a four-text series to support the Victorian Essential Learning Standards (VELS). Jacaranda Essentials Humanities 1 and 2 address Level 5 standards.

 

The domains of History, Geography, Economics and Civics and Citizenship are the principle focus. Links are made, particularly through activities, to the domains of Communication, Thinking, ICT and Design, Creativity and Technology. Aspects of Personal Learning and Interpersonal Development are also integrated, including teamwork, in-depth learning and strategies to encourage participation in community activities.

Features of the series include:
Comprehensive coverage of the Learning Focus and Standards of Humanities.
Colourful double-page spread presentation to capture student interest.
High interest text that communicates concepts to students in a clear and direct style.
Glossary terms highlighted and defined at the start of each chapter.
Skills integrated throughout plus SkillsEssentials sections, many with links to additional interactives.
Strategies to encourage informed and active participation in community activities and public affairs.
Weblinks that connect to on-line sites to facilitate Internet research and investigations.
Activities catering to different learning styles and abilities that consolidate understanding, extend skills and provide opportunities to use ICT.

Jacaranda Essentials Humanities 2 eBookPLUS is an electronic version of the textbook and a complementary set of targeted digital resources. These flexible and engaging ICT activities are available online at the JacarandaPLUS website (www.jacplus.com.au).

The eBookPLUS includes:
• an electronic version of the entire student textbook
• weblinks to useful support material on the internet


Click here to view Jacaranda Essentials Humanities 2 eBookPLUS.
Chapter 1: Life in Medieval Europe
Chapter 2: Law, order, castles and knights
Chapter 3: Classical and Feudal Japan
Chapter 4: Renaissance and Reformation
Chapter 5: Exploring the New World
Chapter 6: Advanced geospatial skills
Chapter 7: Where specifically in the Pacific?
Chapter 8: Antarctica
Chapter 9: Reckless Earth
Chapter 10: Weather and natural hazards
Chapter 11: Forests - an environmental issue
Chapter 12: Economics in action
Chapter 13: Politics in action
Chapter 14: Law in action