Jacaranda Geoactive Stage 5 NSW Australian curriculum learnON (Codes Emailed)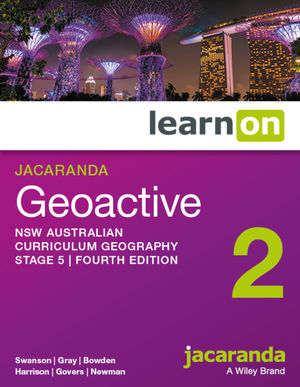 Jacaranda Geoactive Stage 5 NSW Australian curriculum learnON (Codes Emailed)
ISBN: 978-0-730-34752-1
Jan 2018, Jacaranda
Product not available for purchase
Topic 1: The world of Geography
Topic 2: Biomes
Topic 3: Biomes produce food
Topic 4: How are biomes changing?
Topic 5: Challenges to food production
Topic 6: 2050- Food shortage or surplus?
Topic 7: Fieldwork inquiry: What are the effects of travel in the local community?
Topic 8: Urbanisation
Topic 9: The rise and rise of urban settlements
Topic 10: Planning Australia's urban future
Topic 11: Geographical inquiry: Investigating an Asian megacity
Topic 12: Introducing environmental change and management
Topic 13: Land environments under threat
Topic 14: Inland Water
Topic 15: Managing Change in Coastal Environments
Topic 16: Marine environments – Are we trashing our oceans?
Topic 17: Sustaining Urban Environments
Topic 18: Geographical inquiry: Developing an environmental management plan
Topic 19: Human Wellbeing and development
Topic 20: Spatial variations in human wellbeing
Topic 21: Human Wellbeing in Australia
Topic 22: Improving Human Wellbeing
Topic 23 Fieldwork inquiry: Comparing wellbeing in the local area