Jacaranda Geography Alive 9 Australian Curriculum learnON (Online Purchase)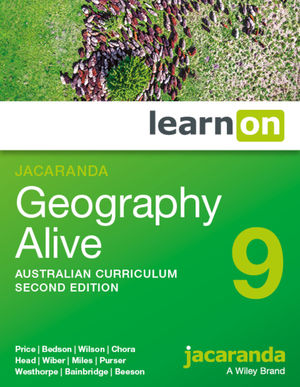 Jacaranda Geography Alive 9 Australian Curriculum learnON (Online Purchase)
ISBN: 978-0-730-34716-3
Jan 2018, Jacaranda
224 pages
Product not available for purchase
Topic 1: The world of Geography
Topic 2: All the world is a biome
Topic 3: How can we feed the world?
Topic 4: What are the impacts of feeding our world?
Topic 5: Are we devouring our future?
Topic 6: 2050 food shortage or surplus?
Topic 7: Geographical Inquiry: Biomes and food security
Topic 8: How do we connect with places?
Topic 9: Tourists on the move
Topic 10: Buy, swap, sell and give
Topic 11: For better or worse
Topic 12: Fieldwork Inquiry: What are the effects of travel in the local community?