Jacaranda Physics 1 3E eGuidePLUS (Online Purchase)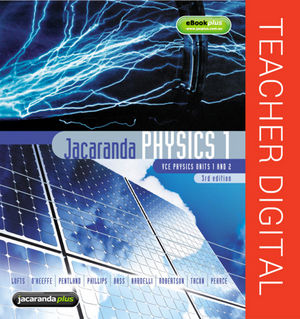 Jacaranda Physics 1 3E eGuidePLUS (Online Purchase)
ISBN: 978-1-742-46005-5
Jul 2009, Jacaranda
Product not available for purchase
Description
Jacaranda Physics 1 3E Units 1 & 2 eGuidePLUS for teachers contains a HTML and PDF version of the entire student text as well as a complimentary set of targeted electronic resources. These flexible and engaging ICT activities are available online at the JacarandaPLUS website (www.jacplus.com.au).

 

The eGuidePLUS resources include:
student and teacher texts in electronic format
interactive study activities that enhance student understanding of key concepts through hands-on experience
video and animation eLessons that reinforce study by bringing key concepts to life
a suite of digital documents, including testmaker files, designed in Word for easy customisation and editing
HTML links to other useful support material on the internet
 
What is onlinepurchase?
Onlinepurchase is a Jacaranda digital only product.
Following payment you will receive a registration code via email.
Go to www.jacplus.com.au to register your code and access your digital resource.


Click to view Jacaranda Physics 1 3E VCE Units 1 and 2 Teacher Support Kit & eGuidePLUS.
UNIT 1
Chapter 1: Radiation From The Nucleus
Chapter 2: Current Electricity
Chapter 3: Circuit Analysis
Chapter 4: Using Electrical Energy
UNIT 2
Chapter 5: Analysing Movement
Chapter 6: Forces In Action
Chapter 7: Mechanical Interactions
Chapter 8: Reflecting Light
Chapter 9: Refracting Light
Chapter 10: Seeing Colour
DETAILED STUDIES
Chapter 11: Our View of the Sky
Chapter 12: Telescopes
With the addition of:
Part A: Fully Worked Solutions
Part B: Investigation Outcomes and Answers
Part C: Emodelling Outcomes
Part D: Chapter Tests and Answers