Jack Russell Terrier: Your Happy Healthy PetTM, 2nd Edition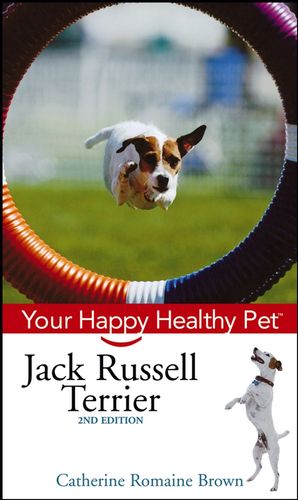 Jack Russell Terrier: Your Happy Healthy PetTM, 2nd Edition
ISBN: 978-0-471-74837-3
Mar 2006
144 pages
Product not available for purchase
Description
Your Happy Healthy Pet

The authoritative information and advice you need, illustrated throughout with full-color photographs--now revised and redesigned to be even more reader-friendly!



Jack Russell Terriers (JRTs) demand a lot of attention and activity, but offer a lot of affection and constant amusement. This guide fills you in on the breed's needs and attributes, covering:
* The JRT's irrepressible hunting dog instincts and character
* Tips for selecting a JRT puppy or adult dog
* Things you'll need to make your pup one of the family
* Pointers on feeding, grooming, and healthcare
* Training and housetraining your JRT
* Bonus chapters available on companion Web site


Single-minded, energetic, and intent, the JRT may try your patience. But then she does her canine comedy or snuggles up affectionately and captures your heart.
Part I: The World of the Jack Russell Terrier.
Chapter 1: What Is a Jack Russell Terrier?
A Hunting Dog.
Active, Determined Companions.
JRTs and Children.
Not a Latchkey Dog.
The Jack Russell Terrier Standard.
Chapter 2: The Jack Russell's History.
The Fox Terrier.
The Reverend Jack Russell.
After Jack Russell.
JRTs in America.
Chapter 3: Why Choose a Jack Russell Terrier?
Not an Apartment Dog.
Courageous and Reckless.
Two Jack Russells?
Jack Russell Puppies.
Other Pets.
Thriving on Praise.
Chapter 4: Choosing Your Jack Russell Terrier.
JRTCA Breeders.
Jack Russell Rescue.
Where Not to Get a Jack Russell.
Part II: Caring for Your Jack Russell Terrier.
Chapter 5: Bringing Home Your Jack Russell Terrier.
Time to Shop.
Puppy Essentials.
Puppy-Proofing.
The Big Day.
Puppy-Proofing Your Home.
Crate Training.
Routine.
Bringing Home an Adult Dog.
Chapter 6: Feeding Your Jack Russell Terrier.
Feeding Your Jack Russell Puppy.
Feeding the Older Jack Russell.
Free Feeding?
What to Feed Your JRT.
Reading Dog Food Labels.
Chapter 7: Grooming Your Jack Russell Terrier.
The Jack Russell Coat.
Bathing.
How to Trim Nails.
Dealing with Parasites.
Making Your Environment Flea Free.
Chapter 8: Keeping Your Jack Russell Terrier Healthy.
Preventive Care.
Internal Parasites.
Problems Seen in the Jack Russell.
First-Aid Situations.
How to Make a Canine First-Aid Kit.
When to Call the Veterinarian.
Dogfights.
Spaying and Neutering.
Part III: Enjoying Your Jack Russell Terrier.
Chapter 9: Training Your Jack Russell Terrier.
Understanding Builds the Bond.
Practical Commands for Family Pets.
Training for Attention.
Teaching Cooperation.
Chapter 10: Housetraining Your Jack Russell Terrier.
Your Housetraining Shopping List.
The First Day.
Confine Your Pup.
Watch Your Pup.
Accidents Happen.
Scheduling Basics.
Appendix: Learning More About Your Jack Russell Terrier.
Some Good Books.
Magazines.
Clubs and Registries.
Web Sites.
Index.