Jacques Rancière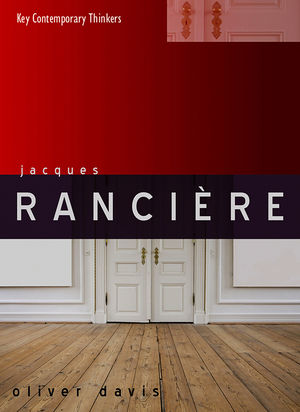 Jacques Rancière
ISBN: 978-0-745-65913-8 April 2013 Polity 232 Pages
Download Product Flyer
Download Product Flyer
Download Product Flyer is to download PDF in new tab. This is a dummy description. Download Product Flyer is to download PDF in new tab. This is a dummy description. Download Product Flyer is to download PDF in new tab. This is a dummy description. Download Product Flyer is to download PDF in new tab. This is a dummy description.
Description
This book is a critical introduction to contemporary French philosopher Jacques Rancière. It is the first introduction in any language to cover all of his major work and offers an accessible presentation and searching evaluation of his significant contributions to the fields of politics, pedagogy, history, literature, film theory and aesthetics.

This book traces the emergence of Rancière's thought over the last forty-five years and situates it in the diverse intellectual contexts in which it intervenes. Beginning with his egalitarian critique of his former teacher Louis Althusser, the book tracks the subsequent elaboration of Rancière's highly original conception of equality. This approach reveals that a grasp of his early archival and historiographical work is vital for a full understanding both of his later politics and his ongoing investigation of art and aesthetics.

Along the way, this book explains and analyses key terms in Rancière's very distinctive philosophical lexicon, including the 'police' order, 'disagreement', 'political subjectivation', 'literarity', the 'part which has no part', the 'regimes of art' and 'the distribution of the sensory'.

This book argues that Rancière's work sets a new standard in contestatory critique and concludes by reflecting on the philosophical and policy implications of his singular project.
Table of contents
Preface vii
Acknowledgements xiii
1 The Early Politics: From Pedagogy to Equality 1
Althusser's lesson 2
Platonic inequality in Marx, Sartre and Bourdieu 15
Jacotot and radical equality 25
2 History and Historiography 36
Les Révoltes Logiques (1975–81) 36
The Nights of Labor: The Workers' Dream in Nineteenth-Century France [1981] 52
The Names of History: On the Poetics of Knowledge [1992] 57
Conclusion 72
3 The Mature Politics: From Policing to Democracy 74
Politics and 'the police' 76
Rancière's structural account of democracy: the 'wrong' and the miscount 80
Political 'subjectivation' 84
The aesthetic dimension of politics: the 'division' or 'distribution' of 'the sensory' (le partage du sensible) 90
Overall assessment of Rancière's account of politics 92
4 Literature 101
'What is literature?' 102
Writing, literarity . . . and literature 107
Rancière as reader 115
5 Art and Aesthetics 126
Aesthetic experience and equality: with Kant and Gauny, against Bourdieu 128
The regimes of art 134
Film and film theory 138
Contemporary art, politics and community 152
Afterword 160
Notes 162
References 191
Index 207
Reviews
"An absolute model of explanatory clarity, with a level of critical distance made all the more impressive by this being the first monograph on Ranciere in any language."
French Studies
"A solid introduction to Ranciere's thought that should help facilitate the reception of his work in the English-speaking world."
Choice
"Well written and accessible ... the chapters are clear and capture the full extent of Rancière's thinking, yet they remain remarkably critical."
Ethical Perspectives
"Davis has thought through how best to introduce Rancière's philosophy and he does it convincingly and compellingly. His book will deservedly become the standard introduction and companion to Rancière for first time readers at every level."
Jay Bernstein, New School for Social Research
"Oliver Davis's Jacques Rancière is an overview of force and beauty. Working through the whole of Rancière's reflections on philosophy, politics, historiography and aesthetics, Davis offers a clear and coherent account of work that has changed the way we think about the emergence, the condition and the future of democracy."
Tom Conley, Harvard University
Features
Rancière is one of the most interesting and original philosophers in France today, well-known for his work on aesthetics, politics and the philosophy of literature.
While he has been writing since the 1960s, he has become particularly influential in the English-speaking world since around 2000, when translations of his most important books began to appear.
This new book in our Key Contemporary Thinkers series is a clear and accessible introduction to the work of Rancière, written for students.
This book will be of particular interest to students of philosophy, aesthetics, and social, cultural and literary theory.