James Joyce: A Short Introduction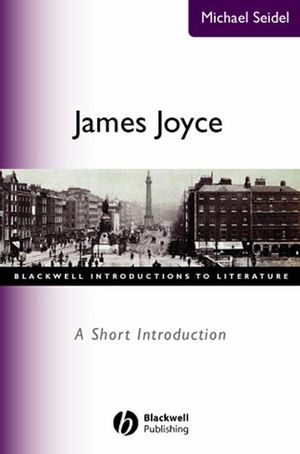 James Joyce: A Short Introduction
ISBN: 978-0-631-22701-4 June 2002 Wiley-Blackwell 176 Pages
Description
This reader-friendly introduction makes Joyce asscessible by combining the excitement of reading his words with the excitement of interpreting them.
1. Introducing Joyce.
2. Master Plots.
3. Dubliners.
4. Portrait of The Artist as a Young Man.
5. Exiles.
6. Levels of Narration.
7. Homer in Ulysses.
8. Three Dubliners.
9. Reflexive Fiction.
10. Strategic Planning.
Notes.
Index.
"Seidel has written an admirable brief introduction for the general reader. Obviously the product of many years of teaching Joyce, it's concise, fresh and very accessible."
Ronald Bush, St John's College, University of Oxford
<!--end-->
"Entering the Joycean labyrinth – whether for the first time, or the twenty-first – one could not wish for a wiser, more gracious, better-humored guide than Michael Seidel. He ranges over the full spectrum of Joyce's writing with a lightness of touch and a sureness of direction that makes being his student an unmitigated delight." Kevin J. H. Dettmar, Southern Illinois University

"In James Joyce: A Short Introduction, Michael Seidel has pulled off one of the most difficult feats in current publishing. Seidel manages to capture anew what it is that makes Joyce's writing unique, and to elucidate even his most abstruse of abstrusities with a directness, clarity and infectious pleasure which reminds one all over again why one loves Joyce." Jeri Johnson, Exeter College, University of Oxford

"In James Joyce: A Short Introduction, Seidel has provided a clear and accessible distillation of the biographical and historical background to Joyce's work as well as a set of methodological tools designed to help the 'general reader' understand and interpret Joyce's use of language and narrative form. Resisting the urge to 'decode' Joyce's style by appealing to content, Seidel has done an admirable job of demystifying some of Joyce's techniques without dismissing or devaluing their importance." Irish Studies Review


Makes Joyce accessible to those coming to his works for the first time.


Shows that students need to pay close attention to Joyce's words, phrases and sentences in order to read his works with insight and pleasure.


Demystifies Joyce's style and demonstrates that the books themselves hold all the clues to understanding Joyce's narrative enterprise.


The introduction points out the amusing ways in which Joyce represents the many voices of twentieth-century narrative.