Janice VanCleave's A+ Projects in Chemistry: Winning Experiments for Science Fairs and Extra Credit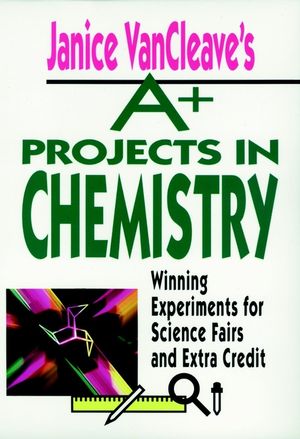 Janice VanCleave's A+ Projects in Chemistry: Winning Experiments for Science Fairs and Extra Credit
ISBN: 978-0-471-58630-2
Aug 1993
240 pages
Description
Janice VanCleave's A+ Projects in Chemistry Are you having a hard time coming up with a good idea for the science fair? Do you want to earn extra credit in your chemistry class? Or do you just want to know how the world really works? Janice VanCleave's A+ Projects in Chemistry can help you, and the best part is it won't involve any complicated or expensive equipment. This step-by-step guide explores 30 different topics and offers dozens of experiment ideas. The book also includes charts, diagrams, and illustrations. Here are just a few of the topics you'll be investigating: *Acid/base reactions * Polymers * Crystals * Electrolytes * Denaturing proteins You'll be amazed at how easy it is to turn your ideas into winning science fair projects. Also available: Janice VanCleave's A+ Projects in Biology
Partial table of contents:

Weather: Chemically Speaking.

Air: Life Supporter and Protector.

Calories: Biochemical Energy.

Vitamin C Content: Analysis of Food by Titration.

Proteins: Changed by Denaturing.

Indicators: Identifying Acids and Bases.

Phase Changes: Effects of Solutes.

Electrolytes: Conductors of Electricity.

Coloring and Colorfastness: The Art of Dyeing.

Crystals: Nature's Jewels.

Hard Water: A Curdling Problem.

Polymers: Chains of Simple Molecules.

Water: The Irregular Liquid.

Carbon Dioxide: Its Production and Uses.

Thermometers: Old and New.

Appendices.

Glossary.

Index.