Janice VanCleave's A+ Projects in Earth Science: Winning Experiments for Science Fairs and Extra Credit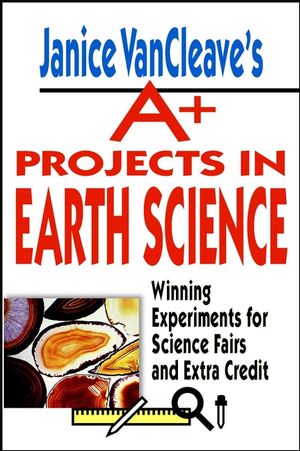 Janice VanCleave's A+ Projects in Earth Science: Winning Experiments for Science Fairs and Extra Credit
ISBN: 978-0-471-17770-8
Dec 1998
240 pages
Description
Janice VanCleave's A+ Projects in Earth Science The newest volume in the bestselling A+ Science Projects series! Are you having a hard time coming up with a good idea for the science fair? Do you want to earn extra credit in your science class? Or do you just want to know more about how the world around you works? Janice VanCleave's A+ Projects in Earth Science can help you--and the best part is, it won't involve any complicated or expensive equipment. This step-by-step project book explores 30 different topics and offers dozens of experiment ideas. The book also includes lots of charts, diagrams, and illustrations. Here are just a few of the topics you'll be investigating: * Rocks and minerals * Meteorology * Oceanography * Plate tectonics * Air fronts * The greenhouse effect You'll be amazed how easy it is to turn your own ideas into winning science fair projects! Also available: Janice VanCleave's A+ Projects in Biology Janice VanCleave's A+ Projects in Chemistry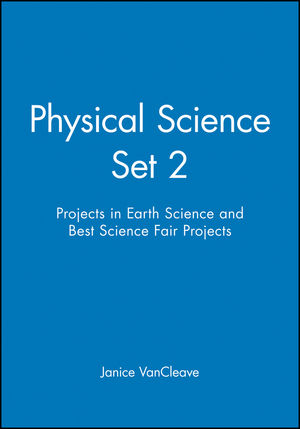 Original Price:$30.95
Purchased Together:$27.00
save $3.95
MAPPING THE EARTH.

Maps and Globes: Terrestrial Guides.

Topography: Highs and Lows of the Earth's Surface.

THE EARTH AND SPACE.

Rotation: The Spinning of the Earth on Its Axis.

Heliocentric: The Earth's Solar System.

Night Light: The Structure and Movement of the Earth's Moon.

Mobile Stars: The Apparent Movement of Stars.

Time: Day Lengths and Time Zones.

Early Methods: Ancient Techniques of Determining the Earth's Size and Shape.

PHYSICAL COMPOSITION OF THE EARTH.

Elements: The Earth's Building Blocks.

The Earth's Layers: Chemical and Physical Properties of the Earth.

THE EARTH'S LITHOSPHERE.

Minerals: Distinguishing Physical Characteristics of Minerals.

Crystals: Distinguishing Physical Characteristics of Crystals.

The Rock Cycle: Processes That Change One Rock Type into Another.

Erosion: The Breakdown and Movement of Crustal Material.

Rock Sandwiches: Layering of Regolith Particles.

Soil Texture: Effects of Regolith Size.

Crustal Bending: Deformation of the Earth's Crust.

Faulting: The Earth's Crustal Breaking Point.

Plate Tectonics: Floating Crustal Sections.

THE EARTH'S HYDROSPHERE.

Soundings: Mapping a Profile of the Ocean Floor.

Water Waves: Surface Disturbances Due to Energy Transfer.

Percolating Water: The Movement of Water Beneath the Earth's Surface.

The Hydrologic Cycle: The Movement of Water from Place to Place.

THE EARTH'S ATMOSPHERE.

Atmospheric Energy: Unequal Heating by the Earth's Surface.

The Greenhouse Effect: Heat Transfer in the Atmosphere.

Convection: Air in Motion.

Fronts: Moving Air Masses.

Barometric Changes: The Cause and Measurement of Air Pressure.

Hygrometers: Ways to Measure the Atmosphere's Water Content.

Precipitation: Phases of Atmospheric Water.

Appendices.

Glossary.

Index.