Janice VanCleave's Energy for Every Kid: Easy Activities That Make Learning Science Fun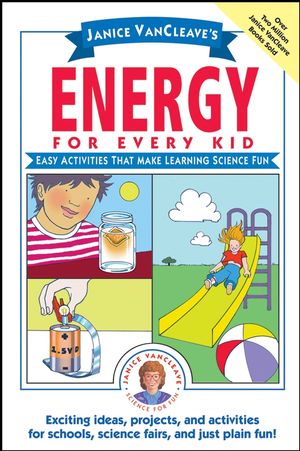 Janice VanCleave's Energy for Every Kid: Easy Activities That Make Learning Science Fun
ISBN: 978-0-471-73187-0 October 2005 240 Pages
Description
How do plants make their own food?

Why do the different strings on a guitar have differentsounds?

What does the color of a star tell you about how hot the staris?

What's the difference between gamma rays, X-rays, andmicrowaves?

Now you can discover the answers to these and many otherfascinating questions about energy for yourself with thisfun-filled science resource. Packed with illustrations, JaniceVanCleave's Energy for Every Kid presents entertaining, challengingexperiments and activities to help you understand the differenttypes of energy--including heat, sound, electricity, and light--andhow they bring about change in the world around you. You'll developyour problem-solving skills as you create a "leaping frog" thatturns potential energy into kinetic energy, model sound waves witha Slinky?, use a balloon to demonstrate static electricity, make"sun" tea with solar energy, and much more!

Each of the activities is broken down into its purpose, a list ofmaterials, step-by-step instructions, expected results, and aneasy-to-understand explanation. Plus, all projects have beenpretested so you can perform them safely and inexpensively in theclassroom, at a science fair, or at home!

Also available in the Science for Every Kid series:

ASTRONOMY

BIOLOGY

CHEMISTRY

CONSTELLATIONS

DINOSAURS

EARTH SCIENCE

ECOLOGY

GEOGRAPHY

GEOMETRY

THE HUMAN BODY

MATH

OCEANS

PHYSICS
Introduction.

1. Moving Stuff
Energy and Work.

2. Constant
The Law of Conservation of Mass and Energy.

3. Basic
Kinetic and Potential Energy.

4. Stored
Potential Energy.

5. On the Move
Kinetic Energy.

6. Sum It Up
The Law of Conservation of Mechanical Energy.

7. Disturbances
Mechanical Waves.

8. Up and Down
Energy Movement in Transverse Waves.

9. Back and Forth
Sound Energy.

10. Energy Bundles
Photons.

11. Through Space
Radiant Energy.

12. Hot to Cold
Heat Transfer.

13. Currents
Transfer by Convection.

14. Warm Up!
Infrared Radiation.

15. Changes
How Thermal Energy Is Measured.

16. Opposite
Electric Charges.

17. Stop and Go
Electricity.

18. Pushers
Batteries.

19. Stick to It!
Magnetic Potential Energy.

20. Changers
Chemical Energy.

21. Equal
Nuclear Energy.

22. Used Up
Nonrenewable Energy Resources.

23. Recycle
Renewable Energy Resources.

24. Collectors
Direct Heating by Solar Energy.

25. Pass It On
Energy Transfers within a Community.

Glossary.

Index.