Janice VanCleave's Molecules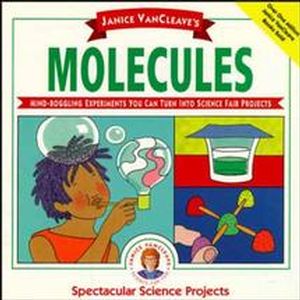 Janice VanCleave's Molecules
ISBN: 978-0-471-55054-9
Sep 1992
96 pages
Description
The perfect science fair idea books. Spectacular Science Projects Janice VanCleave's Molecules
* What are molecules made of?
* How do water molecules stay together?
* How does heat affect the movement of molecules?
Janice VanCleave's Molecules includes 20 simple and fun experiments that allow you to discover the answers to these and other fascinating questions about molecules, plus dozens of additional suggestions for developing your own science fair projects. Learn about the structure of molecules with a simple experiment using gum drops and toothpicks; about molecular motion with a glass, a cup, and food coloring; about crystals using Epsom salts, a soap dish, and a paint brush; and much more. All experiments use inexpensive household materials and involve a minimum of preparation and clean up. Children ages 8-12 Also available in the Spectacular Science Projects series: Janice VanCleave's Animals Janice VanCleave's Gravity KIDS.
Building Blocks.

Super Chains.

Breakdown.

Spacey.

Clingers.

On the Move.

Uphill Climbers.

Tug of War.

Escape.

Mixers.

Separate.

Crystals.

Honeycombs.

Color Changes.

I.D.

Stretchy.

Heavy Water.

Cleansing Power.

Supporters.

Sinkers.

Glossary.

Index.