Janice VanCleave's Science Around the Year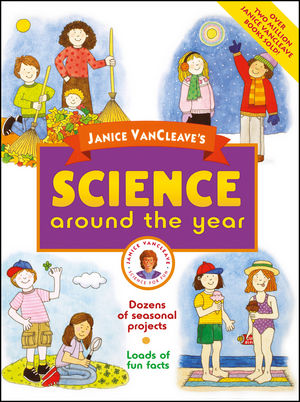 Janice VanCleave's Science Around the Year
ISBN: 978-0-471-33096-7 August 2000 128 Pages
Description
Over Two Million Janice VanCleave Books Sold!
Janice VanCleave's Science Around the Year
Dozens of Seasonal Projects
Loads of Fun Facts

Why do leaves change colors? How do polar bears avoid slipping onthe ice? How are snowflakes made? Why do your toes and fingertipswrinkle if you spend lots of time swimming? How do flies tastetheir food with their feet? Figure out the answers to these andmany other scientific mysteries with this awesome assortment ofexperiments, projects, and facts for every season of the year. Withan amazing experiment for each week, Janice VanCleave's ScienceAround the Year introduces you to dozens of wondrous topics inastronomy, biology, chemistry, earth science, and physics. Discoverwhy leaves turn colors and fall off trees in autumn, why Septemberis a good time to look for monarch butterflies, how salt melts ice,what pinecones can tell you about the weather, and much, much more.As with all of Janice VanCleave's books, each activity is fun andincludes simple step-by-step instructions, as well as clearexplanations of the concepts you're seeing in action. JaniceVanCleave's Science Around the Year promises hours and hours offascinating, hands-on, safe, low-cost science fun-at home or in theclassroom.
AUTUMN.

Falling Leaves.

Changing Colors.

Butterfly Migration.

Johnny Appleseed.

Columbus Day.

Plant Weather Predictors.

Big Pumpkin.

Saving Time.

Cleaning Up.

Night Vision.

Static Charge.

Native Popcorn.

Animal Weather Predictors.

WINTER.

Melting Ice.

Winter Stars.

Winter Solstice.

Bear's Paws.

Cool Sunglasses.

Sweet Crystals.

Snowflakes.

Snow Motion.

Moon Rings.

Heartbeat.

Fat Facts.

Penguin Undercoat.

Turtle Warm-ups.

SPRING.

Wind Catchers.

Netted.

Clover Leaves.

Spring Equinox.

Spring Rains.

The Big Dipper.

Earth Day.

Conserving Paper.

Hummers.

Early Risers.

Dinnertime.

Water Walkers.

Frog Bite.

SUMMER.

Color Changers.

Critters' Ears.

Summer Smells.

Star Locator.

Sun Protector.

Puffy Raisins.

Up and Out.

Dog Days.

Keep Cool.

Wrinkled Skin.

Singing Lessons.

Cool Clothes.

Sweaty Cans.

Glossary.

Index.