Janice VanCleave's Weather: Mind-Boggling Experiments You Can Turn Into Science Fair Projects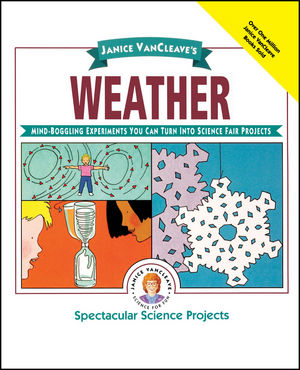 Janice VanCleave's Weather: Mind-Boggling Experiments You Can Turn Into Science Fair Projects
ISBN: 978-0-471-03231-1 February 1995 96 Pages
Description
The perfect science fair idea books . Spectacular Science ProjectsJanice VanCleave's Weather
* Why does it rain?
* What causes thunder and lightning?
* How does a cloud form?
Janice VanCleave's Weather includes 20 fun and simple experimentsthat allow you to discover the answers to these and otherfascinating questions about weather, plus dozens of additionalsuggestions for developing your own science fair projects. Learnwhat causes lightning with a simple experiment using a roll of tapein a darkened room. Make a barometer from a soda bottle, straws,modeling clay, and colored water. Use a shoe box, plastic wrap, andsome soil to understand the greenhouse effect. All experiments useinexpensive household materials and involve a minimum ofpreparation and cleanup. Children ages 8-12 Also available in theSpectacular Science Projects Series Janice VanCleave's AnimalsJanice VanCleave's Earthquakes Janice VanCleave's ElectricityJanice VanCleave's Gravity Janice VanCleave's Machines JaniceVanCleave's Magnets Janice VanCleave's Molecules Janice VanCleave'sMicroscopes and Magnifying Lenses Janice VanCleave's VolcanoesKids.
Table of contents
Straight On!

Blue Sky.

Highs and Lows.

Up and Down.

More Heat.

Hot Box.

On the Move.

Windy.

Fronts.

Cloud Maker.

Rainy.

Dew Drops.

Frosty.

Icy.

Layered.

Flashers!.

Boom!

Twister.

Stormy.

Indicators.

Glossary.

Index.