Japanese-English Chemical Dictionary: Including a Guide to Japanese Patents and Scientific Literature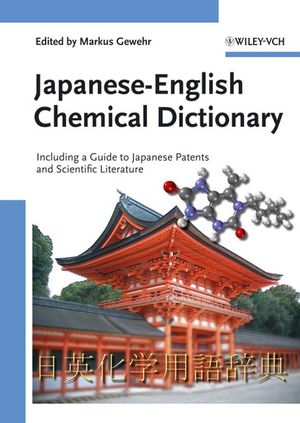 Japanese-English Chemical Dictionary: Including a Guide to Japanese Patents and Scientific Literature
ISBN: 978-3-527-31293-1 November 2007 680 Pages
Description
This indispensable tool enables scientists and translators with only a basic knowledge of Japanese to quickly locate and evaluate pertinent information, tapping the large body of chemical literature that at present is mainly inaccessible to non-Japanese readers.
The dictionary is unique in both its scope and concept, listing over 15,000 technical terms from all chemical disciplines in kanji/kana script, romaji transcription and English translation, ordered according to frequency of occurrence for quick access. The dictionary is supplemented by valuable background information on the Japanese language, chemical industry and chemical literature.
A ready reference for all those chemical professionals dealing with the world's second largest economy.
GENERAL PART
Introduction to the Japanese language
Japanese in scientific and technical publications
Naming of chemical compounds
Japanese patent documentation
Overview on the Japanese patent law
JAPANESE-ENGLISH DICTIONARY
Dictionary structure and explanations
Dictionary part I: Scientific terms beginning with kana
Dictionary part II: Scientific terms beginning with basic kanji
Dictionary part III: Further scientific terms beginning with kanji