Japanese Phrases For Dummies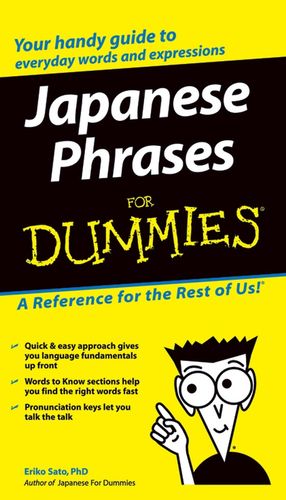 Japanese Phrases For Dummies
ISBN: 978-0-764-57205-0
Aug 2004
224 pages
Description
How to pick up basic Japanese-fast
Japanese is the fifth most studied language in the U.S., with over 40,000 college students enrolled in Japanese courses every year, and Japan ranks as the eighth most popular international destination for American travelers. Focusing on real-world language skills that people can put to use right away-from asking directions to talking numbers-this phrasebook is a must for travelers and students.
Eriko Sato, PhD, is a native Japanese speaker and Professor of Japanese at SUNY Stony Brook.
Introduction.
Chapter 1: I Say It How? Speaking Japanese.
Chapter 2: Grammar on a Diet: Just the Basics.
Chapter 3: Numerical Gumbo: Counting of All Kinds.
Chapter 4: Making New Friends and Enjoying Small Talk.
Chapter 5: Enjoying a Drink and a Snack (or Meal).
Chapter 6: Shop 'til You Drop.
Chapter 7: Making Leisure a Top Priority.
Chapter 8: When You Gotta Work.
Chapter 9: I Get Around: Transportation.
Chapter 10: Finding a Place to Lay Your Weary Head.
Chapter 11: Dealing with Emergencies.
Chapter 12: Ten Favorite Japanese Expressions.
Chapter 13: Ten Phrases That Make You Sound Like a Local.
Index.