Java, XML, and JAXP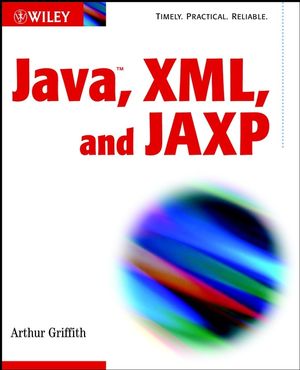 Description
A nuts-and-bolts guide focusing exclusively on Sun's Java XML API
The sole purpose of Sun Microsystem's Java XML API is to write programs that generate XML data for transmission and programs that decipher incoming XML data. While there are many references on the market offering exhaustive coverage of Java, XML, and the JAXP, until now there were none dedicated to providing developers and IT professionals with instant access to critical, drill-down information on how to use the Java XML API to transmit, receive, create, load, and modify XML documents. Arthur Griffith offers clear and concise coverage of the underlying theory involved and uses numerous examples to demonstrate the API's various features and capabilities.
Companion Web site includes all examples from the book along with a valuable resource listing.
Introduction.

Chapter 1: Introduction to XML with JAXP.

Java and XML.

Java, the Language.

XML, the Language.

DTD.

XSL.

SAX.

DOM.

SGML.

XHTML.

JAXP.

Ant.

Summary.

Chapter 2: XML Document Format.

Some General Notes about Syntax.

A Fundamental XML Document.

DTD.

Namespaces.

Summary.

Chapter 3: SAX and DOM in the JAXP.

The SAX Parser.

The DOM Parser.

The Rest of JAXP.

Summary.

Chapter 4: SAX Document Parse and Read.

How SAX Parsers Are Used.

SAX Error Checking.

SAX Document Lister.

Summary.

Chapter 5: SAX Document Manipulation.

Duplicate a Document.

Extracting XML Text.

Formatting XML Text as HTML.

Summary.

Chapter 6: DOM Document Parse and Read.

A DOM Error Checker.

The Shape of the DOM Parse Tree.

A DOM Parse Tree Lister.

A Detailed Parse Tree Dumper.

Summary.

Chapter 7: Editing the DOM Parse Tree.

Making a Copy of a Document.

Inserting a New Element Node.

Locating a Node and Modifying Text.

Deleting a Tree Node.

Replacing a Tree Node.

Locating Elements by Tag Name.

Duplicating a Portion of the Tree.

Setting an Attribute.

Deleting an Attribute.

Moving and Copying Attributes.

Locating a Node by an ID.

Editing the Text of a Node.

Inserting a CDATASection Node.

Splitting a Text Node.

Creating a Parse Tree from Scratch.

Moving Nodes between Documents.

Editing by Using a Document Fragment.

Inserting a Processing Instruction and Comment.

Summary.

Chapter 8: JAXP XSL Document Transformations.

Performing a Transformation.

Pattern Matching with Xpath.

XSL Transformations.

Stylesheet Elements.

Creating a Web Page.

Summary.

Chapter 9: Ant.

Running Ant from the Command Line.

The Content of the Buildfile.

Some Useful Tasks.

Summary.

Chapter 10: The Future.

JAXB.

JAXM.

JAXR.

JAX-RPC.

Long-Term JavaBeans Persistence.

Linking.

Stylesheets.

Other Things Are Coming.

Summary.

Glossary.

Index.
"…practical and highly relevant…I would certainly recommend this book…" (CVu, April 2005)