JavaTM 2 Weekend Crash CourseTM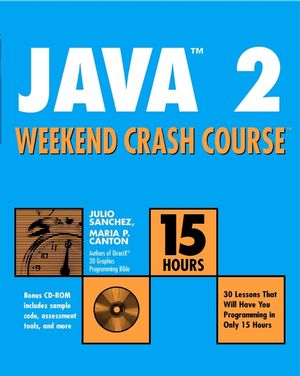 JavaTM 2 Weekend Crash CourseTM
ISBN: 978-0-764-54768-3
Dec 2000
456 pages
Product not available for purchase
Description
The Weekend Crash Course series consists of 30 sessions over a period of three days. Each session is designed to take 30 minutes to complete, so the Crash Course is an intense 15-hour learning period beginning on Friday evening and ending on Sunday afternoon. Naturally, you can adapt their learning to whatever schedule best suits your needs.

Java 2 Weekend Crash Course is written to meet the needs of the reader who is new to Java. However, through the use of carefully constructed roadmaps at the beginning of each session as well as pre- and post-assessment software on the CD-ROM, the book is also quite accessible to the reader who already has some knowledge of Java.
Preface.

Acknowledgments.

FRIDAY.

PART I: Friday Evening.

Session 1: Introducing Java.

Session 2: Loading and Installing Java.

Session 3: Creating a Java Program.

Session 4: Data Storage.

PART II: Saturday Morning.

Session 5: Identifiers and Data Types.

Session 6: Arrays and Java I/O.

Session 7: Java Operators.

Session 8: Decision Constructs.

Session 9: Iteration and Flow Controls.

Session 10: Creating Methods

PART III: Saturday Afternoon.

Session 11: Object-Oriented Java.

Session 12: Programming with Classes.

Session 13: Using Class Inheritance.

Session 14: Using Object Composition.

Session 15: Using Recursion.

Session 16: Abstract Data Types.

PART IV: Saturday Evening.

Session 17: The Linked List ADT.

Session 18: Stacks, Queues, and Trees.

Session 19: Errors and Exceptions.

Session 20: Input and Output.

PART V: Sunday Morning.

Session 21: File Operations and I/O.

Session 22: Reading and Writing Text.

Session 23: Operations on Blocked Data.

Session 24: Computer Graphics in Java.

Session 25: Programming the AWT Classes.

Session 26: Creating the Graphics Application.

PART VI: Sunday Afternoon.

Session 27: Vector and Raster Graphics.

Session 28: Engineering the Java Application.

Session 29: Application Development Techniques.

Session 30: Program Testing and Debugging.

Appendix A: Answers to Part Reviews.

Appendix B: What's on the CD-ROM.

Index.

End-User License Agreement.

CD-ROM Installation Instructions.
| Chapter | Page | Details | Date | Print Run |
| --- | --- | --- | --- | --- |
| | CD | Errata page,View the errata page. | | |