Java Foundations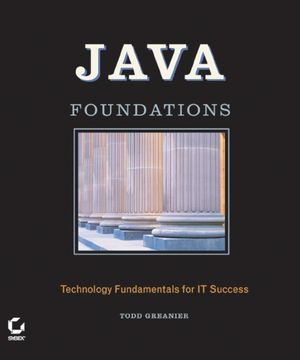 Java Foundations
ISBN: 978-0-782-15115-2 February 2006 347 Pages
Description
The world of IT is always evolving, but in every area there are stable, core concepts that anyone just setting out needed to know last year, needs to know this year, and will still need to know next year. The purpose of the Foundations series is to identify these concepts and present them in a way that gives you the strongest possible starting point, no matter what your endeavor.
Java Foundations provides essential knowledge about what has arguably become the world's most important programming language. What you learn here will benefit you in the short term, as you acquire and practice your skills, and in the long term, as you use them. Topics covered include:
The history of Java
Java fundamentals
Keywords and operators
Flow control
Arrays
Basic and advanced concepts in object-oriented programming
Exception handling
Standard Java API classes
The collections framework
Table of contents
Introduction.
Chapter 1: The History of Java.
Chapter 2: Java Fundamentals.
Chapter 3: Keywords and Operators.
Chapter 4: Flow Control.
Chapter 5: Arrays.
Chapter 6: Introduction to Object-Oriented Programming.
Chapter 7: Advanced Object-Oriented Programming.
Chapter 8: Exception Handlinge.
Chapter 9: Common Java API Classes.
Chapter 10: The Collections Framework.
Appendix A Answers to Review Questions.
Glossary.
Index.
Errata
Chapter
Page
Details
Date
Print Run
Combined Errata


Page 65

you should compile your code like this:
java -d /code TestClass.class

should read..

you should compile your code like this:
javac -d /code TestClass.java


---