Java 2 For Dummies, 2nd Edition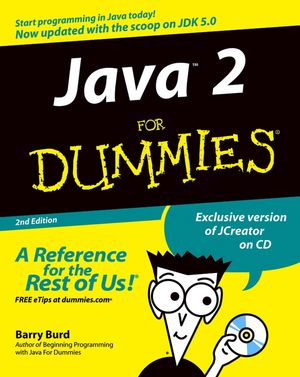 Java 2 For Dummies, 2nd Edition
ISBN: 978-0-764-56858-9
Aug 2004
378 pages
Product not available for purchase
Description
This updated bestseller covers programming essentials for the newest version of Java, the popular platform-independent, object-oriented programming language
The material is fully updated and focuses on the new Java SDK 1.5, addressing the needs of new or inexperienced Java developers
The fun and easy writing style walks readers through Java syntax basics and helps them write their first program
Shows readers how to create basic Java objects and figure out when they can reuse existing code
The new edition is also modified to better address the readers who may have some programming knowledge, but who are new to Java
Introduction.
Part I: Getting Started.
Chapter 1: All about Java.
Chapter 2: Running Canned Java Programs.
Chapter 3: Using the Basic Building Blocks.
Part II: Writing Your Own Java Programs.
Chapter 4: Making the Most of Variables and Their Values.
Chapter 5: Controlling Program Flow with Decision-Making Statements.
Chapter 6: Controlling Program Flow with Loops.
Part III: Working with the Big Picture: Object-Oriented Programming.
Chapter 7: Thinking in Terms of Classes and Objects.
Chapter 8: Saving Time and Money: Reusing Existing Code.
Chapter 9: Constructing New Objects.
Part IV: Savvy Java Techniques.
Chapter 10: Putting Variables and Methods Where They Belong.
Chapter 11: Using Arrays and Collections to Juggle Values.
Chapter 12: Looking Good When Things Take Unexpected Turns.
Part V: The Part of Tens.
Chapter 13: Ten Ways to Avoid Mistakes.
Chapter 14: Ten Sets of Web Resources for Java.
Part VI: Appendixes.
Appendix A: Using the CD-ROM.
Appendix B: When to Use Words Like "public" and "private".
Index.
End-User License Agreement.