Java Collections: An Introduction to Abstract Data Types, Data Structures and Algorithms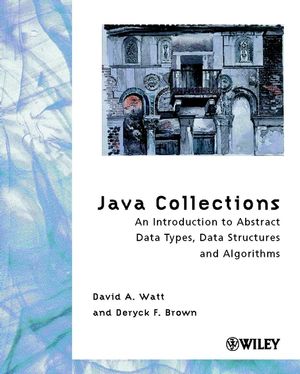 Java Collections: An Introduction to Abstract Data Types, Data Structures and Algorithms
ISBN: 978-0-470-84815-9
Nov 2003
566 pages
Product not available for purchase
Description
Paying close attention to the Java 2 collection classes, this book is designed to give programmers the ability to choose the best collection classes for each application. The focus of the book is on abstract data types (ADTs) that turn up again and again in software design. It will use these ADTs to introduce the data structures required to implement them and the algorithms associated with the data structures.
Suitable for a first course in algorithms and data structures, or a second course in programming using Java, this text offers a unique angle by concentrating on the in-built collection classes in Java 2, enabling more emphasis on software design, and less on theory.
Primarily targetted at students of computer science or information technology, but also of interest to professional programmers and software engineers who are retraining to program in Java.
Introduction 1
Part I: Ready, Set, Go with VMware Infrastructure 3 9
Chapter 1: Exploring VMware Infrastructure 3 as Your Virtual Solution 11
Chapter 2: Getting the Scoop on Capacity Planning 23
Chapter 3: Knowing Your Storage Options 39
Part II: Setting Up ESX Hosts 55
Chapter 4: ESX: The Brawn Behind the Brains 57
Chapter 5: ESX Installation — Now the Fun Begins 67
Part III: Connecting the Physical to Your Virtual Environment 81
Chapter 6: Embracing the Look and Feel of VMware Infrastructure Client 83
Chapter 7: Virtual Networking 95
Chapter 8: Connecting to Storage 119
Part IV: Fault Tolerance and Data Centers 137
Chapter 9: Getting VMware Virtual Center Running 139
Chapter 10: Making Virtual Machines 161
Chapter 11: Managing Virtual Machines 175
Chapter 12: Keeping Things Running with Virtual Clusters 193
Part V: Playing Virtual Adminstrator 209
Chapter 13: Securing Your System 211
Chapter 14: Swimming in Resource Pools 229
Chapter 15: Monitoring Your System 243
Chapter 16: Preparing for Disaster 259
Chapter 17: Troubleshooting 271
Part VI: The Part of Tens 281
Chapter 18: Ten Places to Discover More 283
Chapter 19: Ten Other VMware Products 295
Chapter 20: Ten Cool Virtual Appliances 307
Index 319
"A lovely book.... I will use this book a lot in the next few months on a Java project I'm just starting." (CVu, December 2001)
Motivates study of algorithms and data structures by introducing them in context
Adopts a practical (software engineering) approach, rather than a theoretical one
Maintains an ADT-centred approach
Pays close attention to Java 2 collection classes
Includes numerous worked examples, several larger case studies, end-of-chapter exercises and projects and sample solutions to selected exercises
Complemented by a booksite