Java For Everyone: Late Objects, 2nd Edition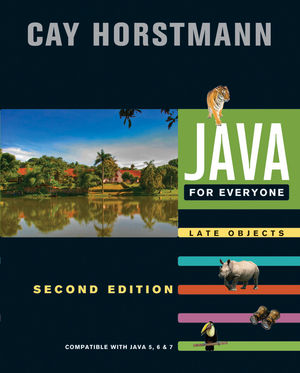 Java For Everyone: Late Objects, 2nd Edition
ISBN: 978-1-118-32728-9 January 2012 624 Pages
Description
Java For Everyone, 2nd Edition is a comprehensive introduction to Java and computer programming, which focuses on the principles of programming, software engineering, and effective learning. It is designed for a one-semester, mixed-major, first course in programming.
Nobody supports your desire to teach students good programming skills like Cay Horstmann. Active in both the classroom and the software industry, Horstmann knows that meticulous coding-not shortcuts-is the base upon which great programmers are made. Using an innovative visual design that leads students step-by-step through intricacies of Java programming, Java For Everyone, 2nd Edition instills confidence in beginning programmers and confidence leads to success.
Chapter 1 Introduction
Chapter 2 Fundamental Data Types
Chapter 3 Decisions
Chapter 4 Loops
Chapter 5 Methods
Chapter 6 Arrays and Array Lists
Chapter 7 Input/Output and Exception Handling
Chapter 8 Object and Classes
Chapter 9 Inheritance
Chapter 10 Graphical User Interfaces
===== Web chapters ==========================================
Chapter 11 Advanced Graphical User Interfaces
Chapter 12 Object-Oriented Design
Chapter 13 Recursion
Chapter 14 Sorting and Searching
Chapter 15 The Java Collections Framework
==== Appendices ==========================================
APPENDIX A THE BASIC LATIN AND LATIN-1 SUBSETS OF UNICODE
APPENDIX B JAVA OPERATOR SUMMARY
APPENDIX C JAVA RESERVED WORD SUMMARY
APPENDIX D THE JAVA LIBRARY
APPENDIX E JAVA SYNTAX SUMMARY (Online only)
APPENDIX F HTML SUMMARY (Online only)
APPENDIX G TOOL SUMMARY (Online only)
APPENDIX H JAVADOC SUMMARY (Online only)
APPENDIX I NUMBER SYSTEMS (Online only)
APPENDIX J BIT AND SHIFT OPERATIONS (Online only)
APPENDIX K UML SUMMARY (Online only)
APPENDIX L JAVA LANGUAGE CODING GUIDELINES (Online only)
Increased coverage of problem-solving: This edition adds practical, step-by-step illustrations of techniques that can help students devise and evaluation solutions to programming problems. Introduced within the chapters where they are most relevant, these strategies include
Algorithm design (with pseudocode)
Flowcharts
Hand-tracing
Storyboards
Adapting Algorithms
New author videos: Cay Horstmann provides mini-lectures on difficult concepts to help students understand the material more thoroughly.
Optional science/engineering and business exercises: End-of-chapter exercises have been enhanced with problems from engineering and business domains. Geared to students learning Java for engineering or business/Information Systems majors, the exercises are designed to illustrate the value of programming in those fields. These exercises are divided between the text and the online book companion site.
New and reorganized topics: All chapters were revised and enhanced to respond to user feedback and improve the flow of topics. A chapter on GUI (that was online only in the first edition) is now included in the printed book, while a chapter on data structures that was printed in the first edition is now an online chapter. New example tables, photos, and exercises appear throughout the book.
Additional programming examples: The author has added many new programming examples both in the book and online on the book companion site.
Presents fundamentals first
o Java For Everyone takes a traditional path through the material, stressing control structures, methods, procedural decomposition, and arrays. Objects are used when appropriate in the early chapters. Students start designing and implementing their own classes in Chapter 8.
Practice makes perfect
o Before students begin to implement nontrivial programs, they need to have the confidence that they can succeed. This book contains a substantial number of self-check questions at the end of each section. Practice It pointers suggest exercises to try after each section, simple programming assignments, and a variety of online practice opportunities, including guided lab exercises, code completion questions, and skill-oriented multiple-choice questions provide ample opportunity for student programmers to practice what they are learning.
A visual approach motivates the reader and eases navigation
o Photographs present visual analogies that explain the nature and behavior of computer concepts. Step-by-step figures illustrate complex programming operations. Syntax boxes and example tables clearly present a variety of typical and special cases in a compact format. Visuals can be browsed by students prior to focusing on the textual material.
Guidance and worked examples help students succeed
o Beginning programmers often ask "How do I start?" and "Now what do I do?" While an activity as complex as programming cannot be reduced to cookbook-style instructions, step-by-step guidance is immensely helpful for building confidence and providing an outline for tasks at hand. The book contains a large number of How To guides for common tasks, together with additional worked examples and screencast videos on the web.