Java Programming with CORBA: Advanced Techniques for Building Distributed Applications, 3rd Edition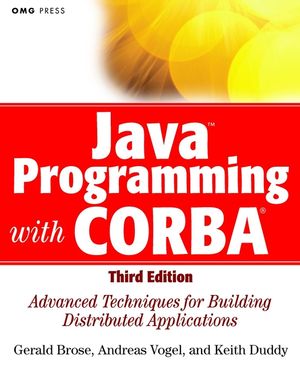 Java Programming with CORBA: Advanced Techniques for Building Distributed Applications, 3rd Edition
ISBN: 978-0-471-43795-6
Jul 2001
752 pages
Description
The leading guide for Java developers who build business applications with CORBA
Acknowledged experts present advanced techniques and real-world examples for building both simple and complex programs using Java with CORBA. The authors begin with a quick overview of CORBA, Java, object request brokers (ORBs), and EJB components, then quickly move on to show how to use them to build complete Java applications. This new volume features in-depth code examples, as well as expanded coverage of cutting-edge topics, including Portable Object Adaptor (POA), Remote Method Invocation (RMI) over IIOP, and EJB.
Foreword to the First Edition.

Foreword to the Second Edition.

Foreword to the Third Edition.

Acknowledgments.

Introduction.

About the Authors.

Benefits of Java Programming with CORBA.

CORBA Overview.

Overview of Java and Java ORBs.

A First Java ORB Application.

OMG IDL to Java Mapping.

ORB Run-Time System.

Discovering Services.

Building Applications.

Advanced Features.

Practical POA Programming.

Events.

Security.

The Persistent State Service.

CORBA Components.

Performance, Scalability, and Management.

Glossary.

Index.