Java Security Solutions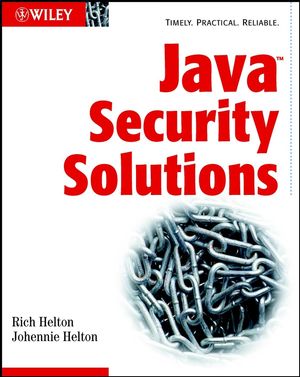 Java Security Solutions
ISBN: 978-0-764-54928-1
Sep 2002
720 pages
Product not available for purchase
Description
* Provides practical solutions, not just principles of security.
* Offers an in depth toolkit to the reader and explains how to use the tools to build a secure system.
* Introduces concepts of security patterns for designing systems, as well as security building blocks for systems.
* Discusses algorithms, cryptography and architecture.
* Addresse security for different application servers.
Preface.

Acknowledgments.

Part I: Introduction to Security.

Chapter 1: Security Basics.

Chapter 2: Hackers and Their Tools.

Chapter 3: Java Security Components.

Part II: Identity and Authentication.

Chapter 4: Key Management Algorithms.

Chapter 5: Elliptic Curve Cryptography.

Chapter 6: Key Management Through the Internet Protocol.

Chapter 7: Implementing Keys with Java.

Chapter 8: Java Implementation of Key Management.

Part III: Data Integrity.

Chapter 9: Ensuring Data Integrity.

Chapter 10: Ensuring Message Authentication.

Chapter 11: Signature Integrity.

Part IV: Data Hiding.

Chapter 12: Understanding Ciphers.

Chapter 13: Extending New Ciphers with the JDK.

Chapter 14: Applying Ciphers.

Part V: Resource Access Using Java.

Chapter 15: Securing Enterprise Resources.

Chapter 16: Java Authentication and Authorization Through Kerberos.

Chapter 17: Securing Messages with the Java GSS-API.

Chapter 18: Java Access: The Security Manager.

Chapter 19: Java Authentication and Authorization Service.

Part VI: Enterprise Data Security.

Chapter 20: Working with Database Security.

Part VII: Network Access.

Chapter 21: Network Security Architecture.

Chapter 22: SSL and TLS.

Chapter 23: Java Secure Socket Extension.

Part VIII: Public Key Management.

Chapter 24: Java Digital Certificates.

Chapter 25: PKI Management.

Part IX: Enterprise Access.

Chapter 26: Java Enterprise Security and Web Services Security.

Chapter 27: Securing Client-Side Components.

Chapter 28: Securing Server-Side Components.

Chapter 29: Application Security with Java.

Index.
"…covers Java well…will be of great help.." (CVu, april 2005)
Bonus Content
Bonus Content
Java™ Security Solutions is your complete guide to the what, why, where, and how of Java Security.
You'll learn how to do the following:
Apply Java security features effectively and efficiently
Implement the cryptography components of JDK 1.4
Work with security algorithms and ciphers
Maintain secure communications within the enterprise
Add security features to enterprise applications
Ensure message authentication and data integrity
Understand network security architecture
Work with authentication, authorization, confidentiality, non-repudiation, and integrity
Source Code for Java™ Security Solutions
Click downloads on the menu to the left to download code for all the chapters in the book. To unzip the code archives, you need an unzipping tool, such as WinZip.