Java Tools: Using XML, EJB, CORBA, Servlets and SOAP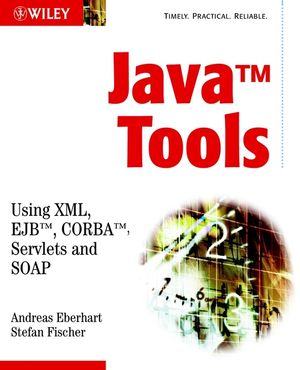 Java Tools: Using XML, EJB, CORBA, Servlets and SOAP
ISBN: 978-0-470-84940-8 November 2002 510 Pages
Description
This unique book provides an overview of all four technologies required for building e-commerce applications and demonstrates how they combine with each other to best effect.
* A single running example (an electronic retail application) demonstrates how the techniques work in practice
* Coverage of Java Database Connectivity (JDBC) and Java Server Pages (JSP)
* Pragmatic and practical approach with very little theory
* The companion Web Site provides all source code used in the book
* Find out about integration issues and discover which technology is best suited for your needs
Introduction.

SECTION I.

Distributed applications.

Hypertext Markup Language (HTML).

Java as a programming language for distributed applications.

JDBC - database access with Java.

SECTION II.

Principles of the servlet technology.

Tool support for servlets.

A sample application with servlets.

SECTION III.

Basic principles of CORBA.

Java Tools for CORBA.

The sample application in CORBA.

SECTION IV.

The basics of Enterprise Java Beans (EJB).

Tools for Enterprise Java Beans.

EJB example.

SECTION V.

XML - the new ASCII.

Tool support for XML.

The sample application with XML.

Business-to-business applications.

SECTION VI.

Related solutions - differences and similiarities.

Technology interaction.

Appendix A: JDBC reference.

Appenidx B: Servlet objects.

Appendix C: Java Server Pages (JSP).

Appendix D: Interface Description Language (IDL).

Appendix E: Document Object Model (DOM) Level 2.

Appendix F: XPath.

Appendix G: Bibliography.

Appendix H: How to use the Web site for this book.

Index.
"...for Java-based distributed Internet applications the whole book is likely to be useful, and so represents value for money..." (Computer Bulletin, September 2002)