JavaScript Bible, 5th Edition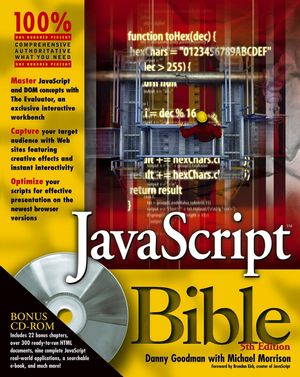 Description
This new edition of the definitive guide to JavaScript has been revamped to cover the latest browsers, language updates, extensions, and JavaScript standards
Part tutorial and part reference, the book serves as a learning tool for building new JavaScript skills and a detailed reference for seasoned JavaScript developers
Danny Goodman's exclusive interactive workbench, The Evaluator, makes it easy to master JavaScript and DOM concepts
Offers deployment strategies that best suit the user's content goals and target audience
Bonus CD-ROM is packed with advanced content for the reader who wants to go an extra step
Foreword.
Preface.
Acknowledgments.
PART I: Getting Started with JavaScript.
Chapter 1: JavaScript's Role in the World Wide Web and Beyond.
Chapter 2: Authoring Challenges Amid the Browser Wars.
Chapter 3: Your First JavaScript Script.
PART II: JavaScript Tutorial.
Chapter 4: Browser and Document Objects.
Chapter 5: Scripts and HTML Documents.
Chapter 6: Programming Fundamentals, Part I.
Chapter 7: Programming Fundamentals, Part II.
Chapter 8: Window and Document Objects.
Chapter 9: Forms and Form Elements.
Chapter 10: Strings, Math, and Dates.
Chapter 11: Scripting Frames and Multiple Windows.
Chapter 12: Images and Dynamic HTML.
PART III: Document Objects Reference.
Chapter 13: JavaScript Essentials.
Chapter 14: Document Object Model Essentials.
Chapter 15: Generic HTML Element Objects.
Chapter 16: Window and Frame Objects.
Chapter 17: Location and History Objects.
Chapter 18: The Document and Body Objects.
Chapter 19: Link and Anchor Objects.
Chapter 20: Image, Area, and Map Objects.
Chapter 21: The Form and Related Objects.
Chapter 22: Button Objects.
Chapter 23: Text-Related Form Objects.
Chapter 24: Select, Option, and FileUpload Objects.
Chapter 25: Event Objects.
Chapter 26: Style Sheet and Style Objects.
PART IV: JavaScript Core Language Reference.
Chapter 27: The String Object.
Chapter 28: The Math, Number, and Boolean Objects.
Chapter 29: The Date Object.
Chapter 30: The Array Object.
Chapter 31: Control Structures and Exception Handling.
Chapter 32: JavaScript Operators.
Chapter 33: Functions and Custom Objects.
Chapter 34: Global Functions and Statements.
Chapter 35: Body Text Objects.
PART V: Appendixes.
Appendix A: JavaScript and Browser Object Quick Reference.
Appendix B: JavaScript Reserved Words.
Appendix C: Answers to Tutorial Exercises.
Appendix D: JavaScript and DOM Internet Resources.
Appendix E: What's on the CD-ROM.
Index.
End-User License Agreement.
PART VI: Bonus Chapters.
Chapter 36: HTML Directive Objects.
Chapter 37: Table and List Objects.
Chapter 38: The Navigator and Other Environment Objects.
Chapter 39: Positioned Objects.
Chapter 40: Embedded Objects.
Chapter 41: XML Objects.
Chapter 42: The Regular Expression and RegExp Objects.
Chapter 43: Data-Entry Validation.
Chapter 44: Scripting Java Applets and Plug-Ins.
Chapter 45: Debugging Scripts.
Chapter 46: Security and Netscape Signed Scripts.
Chapter 47: Cross-Browser Dynamic HTML Issues.
Chapter 48: Internet Explorer Behaviors.
Chapter 49: Application: Tables and Calendars.
Chapter 50: Application: A Lookup Table.
Chapter 51: Application: A "Poor Man's" Order Form.
Chapter 52: Application: Outline-Style Table of Contents.
Chapter 53: Application: Calculations and Graphics.
Chapter 54: Application: Intelligent "Updated" Flags.
Chapter 55: Application: Decision Helper.
Chapter 56: Application: Cross-Browser DHTML Map Puzzle.
Chapter 57: Application: Transforming XML Data.
Missing images for Chapter 12
The zip file contains the following images: pauseoff.jpg pauseon.jpg playoff.jpg playon.jpg rewindoff.jpg rewindon.jpg stopoff.jpg stopon.jpg
Download
Chapter
Page
Details
Date
Print Run
12
132-133
Listing 12-1 images
Although the book says they're in a Chapter 12 folder, the author inadvertently omitted creating the folder. All four images, however, are in the Listings/Chap16 folder under the same names (desk1.gif thru desk4.gif).
3/3/05

---

12
134-137
Listing 12-2 images
These images are downloadable from the "Downloads" page.
3/3/05

---
Author Site
Please visit the author's site for more information and support for the book.