Jeffersonian America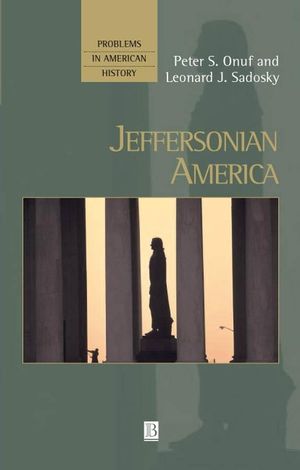 Jeffersonian America
ISBN: 978-1-557-86922-7 October 2001 Wiley-Blackwell 284 Pages
Description
This book analyzes Thomas Jefferson's conception of American nationhood in light of the political and social demands facing the post-Revolutionary Republic in its formative years.
Table of contents
Acknowledgments.
Introduction.
1. The Republican Revolution.
2. Little Republics.
3. Pursuits of Happiness.
4. Federal Republic and Extended Union.
Further Reading.
Index.
Reviews
Jeffersonian America
represents political history at its very best. It is no mere catalog of elections and partisan struggles but a history that explains the underlying structure of politics and uses that explanation to illuminate the history of the period."
Jan Lewis, Rutgers University at Newark
.<!--end-->
"In this well crafted and knowledgeable book, Onuf and Sadosky offer us a splendid lens through which to view Jefferson and the early republic. We thereby gain a greater insight into the origins of American political culture." Paul A. Gilje, University of Oklahoma.

"Onuf and Sadowski ... examine family structure and the structure of local government, political economy and race, and federalism and diplomacy, providing a deft analysis of Jefferson's conception of nationhood during the country's formative years." Choice

"The book's ideological, synthetic and integrative approach emphasizes the themes of contingency and even anxiety in the life of the new nation, which the authors would contend was elided by previous generations of historiographical simplification and overspeculation. Indeed this volume significantly clarifies our understanding of the persistent orientation of the young United States towards the western frontier and the Atlantic world." Johnathan o'Neill, University of London
Features


Presents a fresh analysis of Thomas Jefferson's vision of American nationhood


Underscores the importance of foreign policy for the early American republic


Discusses the origins of the War of 1812 in the light of intra-national political conflicts