Jesus: A Brief History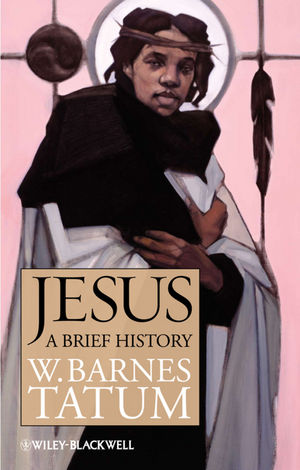 Jesus: A Brief History
ISBN: 978-1-444-31104-4 May 2009 Wiley-Blackwell 288 Pages
Description
Drawing on examples from literature, art, and popular culture, as well as theology, this engaging book reveals the importance of the question, "whose was he?" in fully understanding the life and legacy of Jesus.
A concise, accessible and engaging exploration of Jesus's life and enduring influence
Charts the changing global status and influence of Jesus, a Galilean Jew born when the ancient Roman Empire ruled the Mediterranean world, and how he has come to be honored as the Christ and recognized by billions of people around the world
Traces the reception history of Jesus and his story over the past two millennia, through art, literature, and culture, as well as theology
Draws on a fascinating range of materials - from ancient texts, creeds, and theological treatises, to the visual and dramatic arts, including books like The DaVinci Code and films such as The Passion of the Christ
Table of contents
List of Figures
Preface and Acknowledgments
Prologue: Jesus, a Jew from Galilee
1. Jesus and Christian Beginnings (First to Fourth Centuries)
A Strange Case: Paul and his Letters
Anonymous Narratives: Three Gospels and One Sequel
An Author Called John: A Fourth Gospel, More Letters, and an Apocalypse
Christianity's Earliest Writings: Literary Diversity, Theological Unity
Christianity's Transformation: From a Jewish Sect to a Gentile Religion
Emerging Christianity: A "Catholic" Church
"Gnosticism": The Nag Hammadi Library
Living as Christians in the Roman Empire: The Threat of Persecution
Christianizing the Roman Empire: Constantine the Great
Material Culture: Manuscripts, Architecture, and the Visual Arts
2. Jesus and the Triumph of Christian Orthodoxy (Fourth and Fifth Centuries)
The Council of Nicaea I (325): The Relation of the Son to God the Father
The Council of Constantinople I (381): God as Trinity, One Substance, Three Persons
Transition: From the Trinity to the Incarnation
The Council of Ephesus (431): The Incarnate Son, One Person, Not Divided
The Council of Chalcedon I (451): The Incarnate Son, One Person, Two Natures
Early Monasticism: From Martyr to Monk
Material Culture: Manuscripts, Architecture, and the Visual Arts
3. Jesus and Medieval Christian Orthodoxy (Fifth to Fifteenth Centuries)
Rome, the Papacy, and the Eastern Church: A Church Dividing
The Iconoclastic Controversy: Can Images of Jesus be Created and Venerated?
The Filioque Controversy: Does the Holy Spirit also Proceed from the Son?
Jesus as the Christ of Eastern Orthodoxy: Creed, Liturgy, and Spirituality
The Crusades: Warriors for Christ
Beyond Monasticism: Monks, Mendicants, and Mystics
Scholastic Theology: The Trinity, the Incarnation, and the At-one-ment
Jesus as the Christ of Roman Catholicism: Creed, Liturgy and Spirituality
 Rome and the Papacy: Exile, Schism, and Dissent
Material Culture: Architecture and the Visual Arts
4. Jesus and Challenges to Christian Orthodoxy (Since the Fifteenth Century)
The Renaissance:: Back to the Classics
The Reformation: Back to the Bible
The Enlightenment: Not Revelation, but Reason
Material Culture: Architecture, Visual Arts, and Printed Books
5. Jesus and the Historical Quest (Since the Eighteenth Century)
Pre-Quest Period: Christ = Jesus (before 1778)
Old Quest Period: Christ // Jesus (1778–1906)
No Quest Period: Christ // Jesus (1906–1953)
New Quest Period: Christ > Jesus (1953–1985)\
Third Quest Period: [Christ] Jesus (since 1985)
Dramatic Arts: From Passion Plays to Jesus Films
6. Jesus and Christological Diversity (Since the Eighteenth Century)
Modern Protestant Theology: Liberalism (Nineteenth Century)
Modern Protestant Theology: Neo-Orthodoxy (Twentieth Century)
Modern Catholic Theology: Two Vatican Councils (Nineteenth and Twentieth Centuries)
Beyond Liberalism and Neo-Orthodoxy: Process Theology (into the Twenty-First Century)
Liberation Theology: Latin America (into the Twenty-First Century)
Black Theology: The United States and Beyond (into the Twenty-First Century)
Feminist Theology: The United States and Beyond (into the Twenty-First Century)
Womanist Theology: The United States and Beyond (into the Twenty-First Century)
Theology in the Third World: Latin America, Africa, Asia (into the Twenty-First Century)
Dramatic Arts: Christ-Figure Films and Literary Imagination
7. Jesus and World Religions (Since the First Century)
Judaism: Jesus, a Jew, but No Messiah
Islam: Jesus, a Prophet, but No Son of God
Religions of South and East Asia: Jesus, the Outsider
Material Culture: From Stone to Celluloid
Epilogue: Jesus, a Global Christ
Select Bibliography and Further Reading
Index
Reviews
"The author draws on a range of materials, including ancient texts, creeds, theological treatises, and sources from the visual and dramatic arts, such as The Da Vinci Code and The Passion of Christ." (Journal of Contemporary Religion, January 2011)

"A topically arranged, select bibliography, chapter endnotes, and a single subject/proper name index enhance this introductory text's classroom usefulness." (CHOICE, January 2010)
What's New
A concise, accessible and engaging exploration of Jesus, revealing the importance of the question, "whose was he?" in fully understanding his life and legacy
Traces the reception history of Jesus and his story over the past two millennia, through art, literature, and culture, as well as theology
Charts the changing global status and influence of Jesus, a Galilean Jew born when the ancient Roman Empire ruled the Mediterranean world, and how he has come to be honored as the Christ and recognized by billions of people around the world
Draws on a fascinating range of materials - from ancient texts, creeds, and theological treatises, to the visual and dramatic arts, including books like The DaVinci Code and films such as The Passion of the Christ