Jesus in Disneyland: Religion in Postmodern Times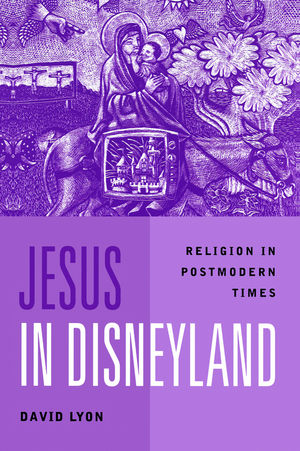 Jesus in Disneyland: Religion in Postmodern Times
ISBN: 978-0-745-66937-3
May 2013, Polity
200 pages
Description
In this lively and accessible study, David Lyon explores the relationship between religion and postmodernity, through the central metaphor of 'Jesus in Disneyland.'
Preface.
1. Meeting Jesus in Disneyland.
2. Faith's Fate.
3. Postmodern Premonitions.
4. Signs of the Times.
5. Shopping for a Self.
6. A Global Spirit.
7. Telescoped Time.
8. Faith's Future.
Notes.
Bibliography.
Index.
'This is an excellent book. I can't believe that anyone would want to teach about contemporary religion or about postmodernity without recommending this book and using it as a springboard for their own discussions.'
Alan Bryman, Professor of Social Research, Loughborough University
'Readers familiar with David Lyon's previous work will find in Jesus in Disneyland the same combination of theoretical awareness, perceptive comment and accessibility that makes his writing so valuable to all those interested in the nature of religion in the modern world. The book elucidates the subtle shift in the world of religion from obligation to consumption - a state of affairs that we need to know more about.' Grace Davie, Senior Lecturer in Sociology, University of Exeter

'The writing is clear and filled with a number of engaging illustrations ... there is a great deal that I very much enjoyed within this book.' LJK, Regent's Reviews

'This interesting book explores the implications of postmodernity on religion. At the same time it questions the centrality of the secularization thesis in sociology of religion as well as calling for reflexivity as a more central aspect of sociological endeavour.' British Journal of Sociology

'The book is engaging and well-written - that academic rarity, a "good read".' Theology Today

'This is a beautifully written, imaginative and stimulating account of the place of religion in postmodernity ... a work laden with richness, a freshness of insight and a sense of immediacy.' Journal of Contemporary Religion

"Jesus in Disneyland:Religion in Postmodern Times is a highly distinctive and fresh commentary on contemporary religion and late modernity by David Lyon, a writer able to embrace the postmodern cultural turn with gusto and panache." European Journal of Social Theory

"This work provides the most insightful understanding of the contemporary context for this field of study" Daryl Healea, Religious Studies Review"This book will provide a fruitful way of grasping some of the fortunes of religion in this postmodern era." Stimulus
* An engaging and accessible study of the relation between religion and postmodernity.

* Examines key issues such as the rise of consumerism and the influence of communication and information technologies as a way of understanding the transformations of religion throughout the worl.

* Using 'Jesus in Disneyland' as a central metaphor, it stresses the relevance of religion to mainstream discussions of contemporary social and cultural change.