Jewish Memory And the Cosmopolitan Order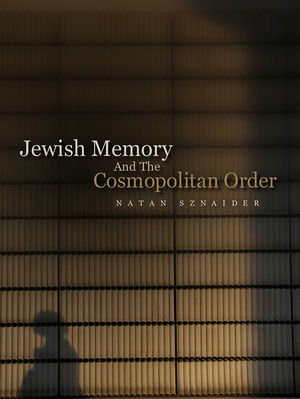 Jewish Memory And the Cosmopolitan Order
ISBN: 978-0-745-63757-0
Apr 2013, Polity
200 pages
Description
Natan Sznaider offers a highly original account of Jewish memory and politics before and after the Holocaust. It seeks to recover an aspect of Jewish identity that has been almost completely lost today - namely, that throughout much of their history Jews were both a nation and cosmopolitan, they lived in a constant tension between particularism and universalism. And it is precisely this tension, which Sznaider seeks to capture in his innovative conception of 'rooted cosmopolitanism', that is increasingly the destiny of all peoples today.

The book pays special attention to Jewish intellectuals who played an important role in advancing universal ideas out of their particular identities. The central figure in this respect is Hannah Arendt and her concern to build a better world out of the ashes of the Jewish catastrophe. The book demonstrates how particular Jewish affairs are connected to current concerns about cosmopolitan politics like human rights, genocide, international law and politics. Jewish identity and universalist human rights were born together, developed together and are still fundamentally connected.

This book will appeal both to readers interested in Jewish history and memory and to anyone concerned with current debates about citizenship and cosmopolitanism in the modern world.
Chapter 1: Introduction
Chapter 2: Paris, Geneva, and Port Bou: The Last Europeans
Chapter 3: Frankfurt, Jerusalem, Offenbach, and New York: Jews and Europe
Chapter 4: The View from Eastern Europe: From Warsaw to New York
Chapter 5: Zurich, Vilna, and Nuremberg: Generalized Guilt
Chapter 6: From Nuremberg to New York via Jerusalem
Chapter 7: Between Drohobych and New York: An End and a New Beginning
References
'
Jewish Memory
enriches its interpretation with the analysis of significant political events and actions.'
Political Studies Review
"In this fine piece of writing, Sznaider confronts us directly with a paradox of current imaginations of new cosmopolitanism in Europe."
Sociological Review
"What is Europe? Not a state, not a territory, argues Natan Sznaider, but a process of shifting borders, and a cosmopolitan memory and vision lived by a multi-lingual Jewish culture. This book exemplifies the richness of cosmopolitan theory and research in the humanities."
Ulrich Beck, University of Munich
"Natan Sznaider brilliantly demonstrates that 'the Jew' has become preeminently the symbol and the vehicle for cosmopolitanism. Jewish universalism and tribalism appear to epitomize the dilemmas and contradictions of the modern cosmopolitan imagination. Through the lens of Hannah Arendt's philosophy and the traumatic history of European Jews, the author explores the contemporary debate about universal ethics. The result is a tour de force in history, sociology and political theory."
Bryan S. Turner, City University of New York
"This book is a must-read for anyone interested in Jewish or any other politics. Sznaider's main thesis is that the particularity of memories and experiences is not subordinate to the universality of an idea such as cosmopolitanism - that the latter is void of worldly and even human relevance without the former. He makes his case through a close examination of modern Jewish thought, with specific and illuminating emphasis on Hannah Arendt. This is a work of inspired scholarship."
Jerome Kohn, New School University
This book weaves together an original argument about cosmopolitanism, and a plea for what the author calls 'rooted cosmopolitanism', with an historical argument about Jewish memory in relation to the Holocaust.
The book is unusual in that it tells the intellectual history of several important, but recently neglected, thinkers and their work on Jewish national memory and politics in the immediate aftermath of the Holocaust, including Hannah Arendt, Rafael Lemkin, and Hersh Lauterpacht.
The author is a well-known sociologist who has worked closely with Ulrich Beck and has published several books on the Holocaust and cosmopolitanism.