Job Hunting For Dummies, 2nd Edition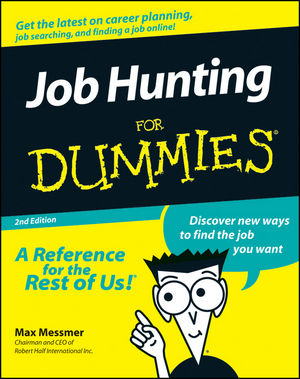 Job Hunting For Dummies, 2nd Edition
ISBN: 978-1-118-06916-5
Jun 2011
408 pages
Product not available for purchase
Description
Whether you're a recent high school or college grad or an established workforce veteran, changing jobs can be a scary experience. Let Job Hunting For Dummies, 2nd Edition, be your guide to pushing your career forward. Author Max Messmer, Chairman and CEO of Robert Half International (the world's largest specialized staffing firm), has used his job search expertise to create this cutting-edge guide to job hunting. Messmer offers the kind of friendly advice and insider's tips that can enhance your job search from start to finish.

Get yourself off on the right foot. First, organize your supplies; then, organize your search. Target your search in the job market of your choice; then, give yourself the tools that you need in order to break in to that market. Find out what separates bad resumes from resumes that get results. Discover the secrets of drumming up job leads, from researching online to using your own networks or working with a recruiter. After you're in, you'll be ready to shine with Messmer's complete list of the do's and don'ts of giving great interviews; and you'll be confident when the interview ends, knowing that you possess the keys to successfully closing an interview.

Don't wait another day. Find the job you want with Job Hunting For Dummies, 2nd Edition.
Foreword.
Introduction.
PART I: Getting a Handle on the Process.
Chapter 1: Getting Off on the Right Foot.
Chapter 2: Getting Organized.
PART II: Setting Your Targets.
Chapter 3: What Are You Looking for, Anyway?
Chapter 4: Scoping Out the Market.
PART III: The Writes (And Wrongs) of Resume Writing.
Chapter 5: Resume Basics.
Chapter 6: Deciding Which Resume Style Is for You.
Chapter 7: Writing Your Resume.
Chapter 8: Getting Your Resume into Print.
Chapter 9: Making Your Cover Letter Count.
PART IV: Drumming Up Job Leads.
Chapter 10: Going Online: The Basics.
Chapter 11: Digging Up Information: The Basics of Effective Research.
Chapter 12: Networking 101.
Chapter 13: Getting the Most Out of Networking.
Chapter 14: Creative Reading: Scouring Want Ads.
Chapter 15: Jobs by Mail: Conducting a Targeted Direct-Mail Campaign.
Chapter 16: The Recruiting Game: Getting Outside Help.
Chapter 17: Temporary Work as a Way to Get Discovered.
PART V: Answering the Call: Keys to Successful Interviewing.
Chapter 18: Getting Ready for Show Time.
Chapter 19: Winning Ways: How to Handle Yourself During the Interview.
Chapter 20: Staying in Control: When Bad Things Happen to Good Interviewees.
Chapter 21: End Game: Closing the Interview on a Winning Note.
Chapter 22: Nailing Down the Offer.
PART VI: The Part of Tens.
Chapter 23: Ten Ways to Get Started on the Right Foot in Your New Job.
Chapter 24: Ten Ways to Keep Up Your Morale.
Chapter 25: Ten Bold Interviewing Tactics to Make You Stand Out from the Crowd.
Chapter 26: The Ten Most Valuable Resources in Your Job Search.
Chapter 27: Ten Questions Frequently Asked by Job Hunters.
Appendix: Resources.
Index.
Book Registration Information.