John Adair's 100 Greatest Ideas for Effective Leadership and Management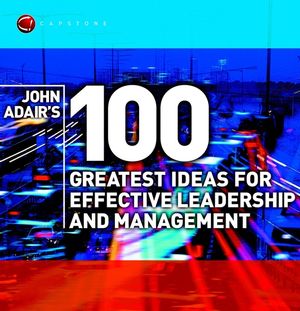 John Adair's 100 Greatest Ideas for Effective Leadership and Management
ISBN: 978-1-841-12140-6
Aug 2002, Capstone
192 pages
Description
Successful management and leadership has never been a greater challenge. Time is stretched, your people are highly motivated but can be highly demanding and business is competitive. Whether you are a first-time manager or experienced leader, straightforward, practical advice on best practice can be hard to find.
John Adair's 100 Greatest Ideas for Leadership and Management will help you find the answers and inspiration you need. The book provides accessible advice from one of the world's best-known and most sought after authorities on leadership and management - advice you can put into practice immediately.
Preface.

Part One: Getting your act Together.

Nine Greatest Ideas for Managing your Time.

Five Greatest Ideas for Organising your Office Work.

Part Two: Understanding Leadership.

Five Greatest Ideas for Understanding the Functions of Leadership.

Part Three: Performing as a Leader.

Three Greatest Ideas for Setting and Achieving your Objectives.

Twelve Greatest Ideas for Decision-Making.

Nine Greatest Ideas for Leadership Skills.

Five Greatest Ideas for Teambuilding.

Part Four: Thinking as a Leader

Thirteen Greatest Ideas for Creativity and Innovation.

Three Greatest Ideas for Leadership Qualities.

Part Five: Power Through the People.

Sixteen Greatest Ideas for Getting the Best from your Team.

Part Six: Getting the Message Across.

Twenty Greatest Ideas for Effective Communication.

Index.
"…if you want to buy a quick reference guide for improving a your own skills and performance then you could do a lot worse than this…" (Edge, October 2002)
"…This little book is fun. It is well structured, easy to access and free of the hyperbole of some popularist "how to" management texts…" (Professional Manager, November 2002)
"The clear language and gusty commonsense of this book make it a beacon amid today's tide of gobbledegook." (Southend Echo, Basildon Echo and Colchester Evening Gazette, 29th & 30th March 2005)