John Jacob Astor: America's First Multimillionaire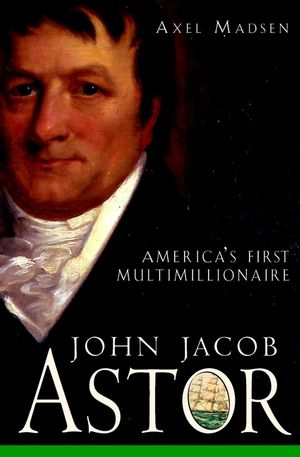 John Jacob Astor: America's First Multimillionaire
ISBN: 978-0-471-00935-1 March 2002 320 Pages
Download Product Flyer
Download Product Flyer
Download Product Flyer is to download PDF in new tab. This is a dummy description. Download Product Flyer is to download PDF in new tab. This is a dummy description. Download Product Flyer is to download PDF in new tab. This is a dummy description. Download Product Flyer is to download PDF in new tab. This is a dummy description.
Description
On The Deal Maker: How William C. Durant Made General Motors:
"A well-written biography."-New York Times

On Stanwyck: The Life and Times of Barbara Stanwyck:
"Madsen's admirably researched, insightful portrait of her aloof nature . . . reveals she was always torn between her wish to give of herself and her need to be in control."-Christian Science Monitor

On Chanel: A Woman of Her Own:
"Fascinating . . . . Takes the reader behind the coromandel veneers of Chanel's life."-New York Times Book Review
"Carefully knits together the complex pattern of Chanel's complicated existence. It's not an easy task."-Toronto Globe and Mail

On Gloria and Joe:
"Axel Madsen finally gives the public a fascinating chronicle of the romance that could have ruined more than two careers."-Dallas Morning News

On Cousteau:
"Both critical and understanding. And it is exceptionally readable. Readers are well advised to take the plunge."-Chicago Tribune

On Malraux:
"Will stand as the best of more than a dozen books about Malraux in print."-Kansas City Star
Table of contents
Acknowledgments.

Introduction.

The Hard Years.

Flutes and Miss Todd.

Into the Woods.

Politics.

Rounding Out the Century.

China Profits.

Realpolitik.

Punqua Wingchong.

Family.

The Good Ship Enterprise.

A Perfect Triangle.

Outbound.

The Hunt Journey.

No News.

Mr. Madison's War.

"So Long as I Have a Dollar".

John Jacob Astor & Son.

Paris.

This Land Is My Land.

Estimable Grand-Papa.

The Bigger Picture.

Writing about It.

A Third Fortune.

Richest Man in America.

Heirs and Graces.

Notes.

Bibliography.

Index.
Reviews
Fur trader, slumlord, war profiteer, opium dealer, liquor salesman. That's the rap on the first of America's legendary business titans, John Jacob Astor.
The biography,
John Jacob Astor: America's First Multimillionaire
by Axel Madsen, records how in 1784, he arrived in America after an unusually long crossing of the Atlantic: He was at sea for 4 months. He was 20 years old with $25 in his pocket. At the time of his death, a few months shy of his 85th birthday, he was worth upward of $20 million and was the richest man in the USA.
According to Axel Madsen (who has written 15 biographies on famous figures, such as Joe Kennedy and Gloria Swanson), Astor embodied the American Dream
His desire to reinvent himself propelled him to levels of financial success few could attain.
By all historical accounts (the vast majority supplied by the New York Public Library archives), Astor was ruthless and stingy, but he had a flair for business. Sounds like a viable strategy.
And he had an uncanny ability for high-tailing it out of a business before it went bust.
A poor German immigrant, Astor made his way to New York and rapidly stamped his mark on an economy that was taking off.
He seemingly glided from the fur trade, bolstered by selling liquor to the Indians, to shipping opium to China, to Manhattan real estate (his greatest coup). He is described as a slum lord. Fairly unsavory stuff, but worth a fortune.
Money was his passion, and that's all that mattered to him. He understood the impermanence of success and understood the volatility of the markets and how to anticipate change. Worthy instincts, even today.
The fascinating thing about Astor is that, regardless of how one feels about his business practices, he was one of the first businessmen to imagine the world as a global economy. He went for it with gusto.
To get a snapshot of how rich he was in his heyday, the author gives us this fine example:
In 1844, the average New Yorker earned $1 a week. That year, Astor gave his granddaughter Laura a wedding gift of $250,000, conservatively worth $50 million today.
The author reveals that it was really his wife, Sarah Todd, who came with a $300 dowry and a free place to live with her family, who started him on his financial way.
Her wealth allowed him to quit hawking bread on the streets of lower Manhattan, his first job in this country.
His work schedule is admirable, given the hours many of today's workers put in.
He would have breakfast at 9a.m., leave the office at 2 in the afternoon, have dinner at 3, then savor a glass of beer and three games of checkers each evening, according to Madsen.
Astor offers a historical insight into a vibrant, growing American economy, as well as a glimpse of a man who made the most of his time here.
The fault is the inability to tap into the real heart of what propelled this man to such great heights. We learn of his business practices but little about his inner motivation and soul.
We know that after money was no object, he spent much time traipsing around Europe from court to court, trying to marry his favorite daughter off to royalty.
But more of his business acumen would have been worth noting beyond the notion that he was merciless and aggressive. How so?
The author assures us that part of that problem was that none of Astor's children or
siblings ever published an anecdote that might throw light on his character.
Too bad.
--
USA Today
Expertly situating his subject's accomplishments in the context of late 18th- and early 19th-century commercial and geopolitical expansion, Madsen (Chanel; Gloria and Joe) weighs in with an absorbing biography of one of 19th-century America's most powerful men. Having immigrated to the U.S. from Germany in 1783, Astor was on friendly terms with such prominent figures as Thomas Jefferson, James Madison and Albert Gallatin by the time he came to dominate the North American fur trade in 1800. While Astor's relationships with Jefferson and others characterized the wheeling and dealing fledgling Washington, D.C., his mastery over the fur trade figured significantly in opening up the American West. The book's best moments come when Madsen describes Astor's efforts to establish a permanent outpost in the Oregon territory. Called Astor, it was designed not only to aid its founder's domination of the fur trade in the Northwest, but to help him facilitate trade with China - for while fur brought Astor his first fortune, foreign trade provided him with his second. While he had a talent for exploiting new business opportunities, Astor also had the foresight to extricate himself from both the fur and trading businesses before they waned. Astor's third fortune, the legacy he would pass on to his heirs, sprang from his real estate investments in Manhattan. He sank the profits from his first ventures into large swaths of land in rapidly expanding New York City, where he built mansions and tenements alike. Madsen provides a largely sympathetic portrait of Astor; while no revelations emerge, the book effectively projects his story against the backdrop of seminal events in early American history.
--Publishers Weekly
Like Caesar's Gaul, the continent of popular business biographies has lately been divided into three parts - let's call them Pittsburgh, Wall Street and Silicon Valley.
The Pittsburgh precinct is crowded with tales of the famous empire builders of the Gilded Age, the perennially interesting Morgans, Mellons and Rockefellers. The Wall Street region has produced a vast crop of books about various stock market geniuses. And Silicon Valley has become a fertile field for stories about famous young nerds and their favorite gadgets.
So it is refreshing to find a new business biography that returns to some long-neglected historical terrain: America's first generation of business titans. Long before there were Steel mills in Pittsburgh - indeed, before there was anything but Fort Duquesne in Pittsburgh - there were colorful American entrepreneurs who mobilized the capital, labor force and greed of the frontier to produce a new aristocracy of wealth to challenge the pedigrees of Europe.
And the most successful of them all, for those who use money to keep score, was John Jacob Astor. At the time of his death in 1848, at the age of 84, he was by far the richest man in America - indeed, he personally owned nearly 7 percent of all the personal wealth in the young country, far more than the young upstart Cornelius Vanderbilt. As recently as the early 20th century, the Astor name was still a widely recognized synonym for limitless wealth.
"John Jacob Astor: America's First Multimillionaire" by Axel Madsen (John Wiley Sons, $30) offers an overdue refresher course in the roots of what is still a formidable fortune. Born in what is now southern Germany in 1763, Astor was a bright, enterprising young man whose early schooling gave him a tantalizing glimpse of the world's possibilities. He reluctantly followed his father into the butcher's trade, but two older brothers struck out for London and New York. Soon, he followed - first, to England, and finally, in November 1783, to America.
He made his first fortune in the fur trade, and the men of his American Fur Company left their mark - and inevitably, their bruises - on the face of a barely explored North American wilderness. To help his fur trade with the Indians, he built a shipping empire, competing with the Boston Brahmins for a lucrative slice of the infamous opium trade with China.
Finally, he plowed his profits into real estate, buying and leasing out the bucolic farms and riverfront property that are now known as Midtown Manhattan. Astor left money for what became one of the founding collections of the New York City Public Library, but he was clearly no philanthropist-indeed, his offspring would be more famous for their conspicuous consumption than for their generosity.
His only grand edifice was the Astor Hotel, the city's first luxury lodging, but his name was appropriated by a community in Queens - Astoria - that could be seen from his country estate on the Manhattan shore of the East River.
This is Mr. Madsen's second purely business biography after more than a dozen works drawn from the stylish world of fashion and film. Unfortunately, Astor's life was singularly lacking in similar glamour. He was a primitive man whose written English was almost incomprehensible. His personal papers are sparse, and primary sources have been well-thumbed by earlier biographers - including Washington lrving, who
knew and briefly lived with Astor in the old trader's later years. None of Astor's offspring penned so much as a short anecdote about the man who paid the bills.
As a result, Astor's essential personality seems to elude his new biographer, leaving the reader with little more than the pelts and antlers, the deeds and mortgages of a life. Mr. Madsen moves these inanimate relics around with great energy but never truly makes them come alive.
The same cannot be said for Mr. Madsen's first foray into business biography, which has just been released in paperback. "The Deal Maker: How William C. Durant Made General Motors" (John Wiley Sons, $16.95) is a lively and fascinating account of a seminal figure in the history of the automobile industry.
Durant, born in 1861, did not invent the automobile, but he almost might be said to have invented the American idea of the automobile - that shimmering amalgamation of style, speed and sex appeal that remains the essence of car marketing.
He was a master salesman and a daring dreamer who, one friend said, was never happy unless he was clinging to a windowsill by his fingertips. His grand visions made conservative bankers like J. P. Morgan nervous. Nevertheless, before the 20th century was a decade old, Durant was able to pull together dozens of idiosyncratic car companies over an 18-month period to form the corporation that would dominate the
American auto industry for more than 50 years.
And then, like some magnificent figure from Greek mythology, he lost it all. He caught the stock market fever that broke out after World War 1. His frenzied speculations left him at the mercy of his biggest blue-chip investors, and they drove him from the G.M. boardroom in 1920.
He tried for a second act as a stock speculator, but was ruined in the 1929 crash. Again, he started over, finding some poignantly modest success late in life as manager of a bowling alley in Flint, Mich., where his fascinating journey had begun.
Durant's story is told with a confidence and passion that fully compensates for the occasional awkward phrasing and confusing chronology. Besides bringing the forgotten Durant to life, Mr. Madsen transforms familiar brands into real people, providing human faces for the proper nouns that Detroit has hardwired into our brains: Olds, Dodge, Buick, Chevrolet, Chrysler and even, for us old-timers, Nash and Studebaker.
"The Deal Maker" is a wonderful tale, well told.
--by Diana B.Henriques, NY Times