John McDowell: Experience, Norm, and Nature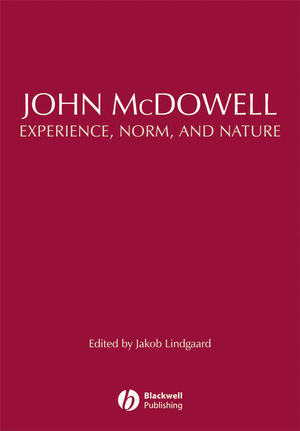 John McDowell: Experience, Norm, and Nature
ISBN: 978-1-444-30674-3 April 2009 Wiley-Blackwell 200 Pages
Description
John McDowell: Experience, Norm, and Nature combines original essays by leading contemporary philosophers with point by point responses by McDowell himself to explore the central themes of one of the most innovative philosophers of our day.
Provides original and critical essays examining McDowell's reading and appropriation of Sellars, Kant, and Hegel in his own philosophy
Explores McDowell's notions of perceptual experience and his proposed rethinking of our conception of nature in light of the challenges that reason and normativity introduce
Includes an original essay by McDowell that includes significant developments of his conception of perceptual experience
Offers thorough and penetrating responses by McDowell to his critics
Introduction.
1. Avoiding the Myth of the Given (John McDowell, University of Pittsburgh).
2. Perception and Content (Bill Brewer, University of Warwick).
3. McDowell, Sellars, and Sense Impressions (Willem A. deVries, University of New Hampshire).
4. Three Sorts of Naturalism (Hans Fink, University of Aarhus).
5. Varieties of Nature in Hegel and McDowell (Christoph Halbig, University of Jena).
6. Thought and Experience in Hegel and McDowell (Stephen Houlgate, University of Warwick).
7. Practical Reason and its Animal Precursors (Sabina Lovibond, Worcester College, Oxford University).
8. Contemporary Epistemology: Kant, Hegel, McDowell (Kenneth R. Westphal, University of East Anglia).
9. Science and Sensibility: McDowell and Sellars on Perceptual Experience (Michael Williams, John Hopkins University).
10. Reason's Reach (Charles Travis, King's College London).
11. Responses (John McDowell, University of Pittsburgh).
Index.


Provides original and critical essays examining McDowell's reading and appropriation of Sellars, Kant, and Hegel in his own philosophy

Explores McDowell's notions of perceptual experience and his proposed rethinking of our conception of nature in light of the challenges that reason and normativity introduce

Includes an original essay by McDowell that includes significant developments of his conception of perceptual experience

Offers thorough and penetrating responses by McDowell to his critics