John McDowell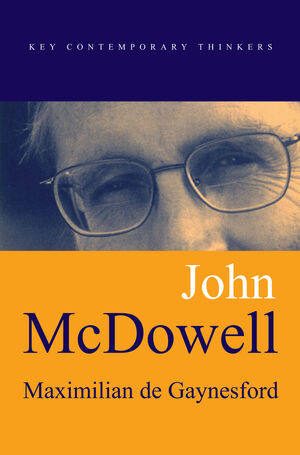 John McDowell
ISBN: 978-0-745-63036-6 August 2004 Polity 224 Pages
Description
John McDowell has set the philosophical world alight with a revolutionary approach to the subject, illuminating old problems with dazzling particularity. In this welcome introduction to his work, Maximilian de Gaynesford puts writing within comfortable reach of non-specialists.
The guiding argument of the book is that the variety of McDowell's interests disguises a core concern with a single basic goal: 'giving philosophy peace'. Since the dawn of the subject, philosophy has struggled with the question: can our experience of the world give rational support to what we think and say; and if so, how? McDowell claims that philosophy has itself to blame if these questions seem problematic, and this book's animating purpose is to see what sense can be made of this notorious claim. In McDowell's view, the illusion that our fundamental relations with the world are truly problematic is traceable to false views about nature. We should give proper weight to a natural fact about the world: that human beings are of a kind that is naturally placed within the natural order.

De Gaynesford analyses McDowell's densely argued and meticulous work in a lucid, balanced and engaging way, that will prove invaluable for all students and scholars of McDowell and philosophy.
Table of contents
Acknowledgements.
Preface.
Part I: Overview.
Challenge.
Response.
Implications.
Part II: A Naturalism of Second Nature.
Naturalism.
Reasons.
Nature Revised.
Part III: An Internationality of Second Nature.
Experience.
Conceptualism.
Judgement.
Openness.
World Dependency.
Part IV: The Exercise of Second Nature.
Knowledge.
Value.
Conclusion.
Notes.
Select Further Reading.
References.
Index.
Reviews
'McDowell is a particularly demanding philosopher to read, partly because of his somewhat abstruse writing style, but also because his work often addresses such a diverse range of philosophical topics. De Gaynesford has done a really excellent job of gathering together the central strands of McDowell's work, and presenting them in a unified and accessible form.'
Darragh Byrne, University of Birmingham
'This elegant and rigorous book provides students and scholars with an accessible, sympathetic and yet critical overview of McDowell's unusually demanding but highly influential body of work. It will surely prove pivotal to future discussions, not only of this author, but also of the central philosophical themes with which he has been preoccupied.' Stephen Mulhall, University of Oxford

'...certainly a helpful introduction. The force and direction of McDowell's thinking is best appreciated cumulatively - his work is holistic not atomistic - and de Gaynesford provides a comprehensive and informed means of situating it's various stands.'

Philosophical Papers

'This book is a wonderful introduction to a very complex philosopher. Gaynesford succeeds in both making McDowell accessible while at the same time providing intersting suggestions for future discussions. Suggested reading sorted according to topic is provided at the end.'

Adonis Vidu, Emmanuel University, Oradea, Romania

What's New


A clear and accessible introduction to the work of one of the most influential philosophers writing today.


It brings together the many strands of McDowell's work and presents them in a unified form.


This is the first full introduction to McDowell's philosophical writings.